Chirply Review - Who Is Chirply For?
If you need to prospect, follow-up with leads, close sales, or manage a sales team, then this software is perfect for your business.
Whether you run and manage a small startup or you're the head of the marketing department for a medium-sized company, Chirply is going to be an excellent addition to your toolbelt.
It will work for marketing agencies, VA services, real estate agents, wholesalers, service business owners and anyone else who needs more leads or sales to help automate their inbound and outbound marketing.

If you've been looking for a powerful tool to help you reach more leads in a cost-effective way with multiple communication channels, then Chirply is probably a great fit for you.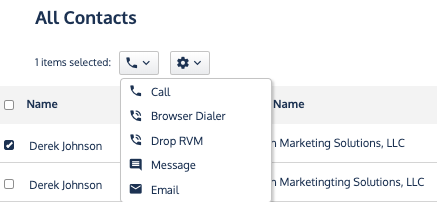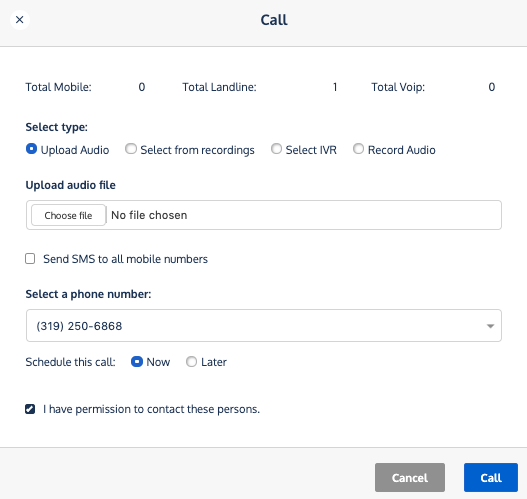 One of the most powerful features of Chirply is that you have access to a browser power dialer. Imagine you are now capable of handling outgoing calls automatically – you and your sales team can work to crush your prospecting from a single dashboard.
The Chirply power dialer makes it super simple to automate the sales process by streamlining lead calling, systematically working through your list of prospects, so you can contact them back to back without manually dialing which will help save time and prevent human error.
Chirply's Best Calling Features
Text Message Marketing (SMS Marketing)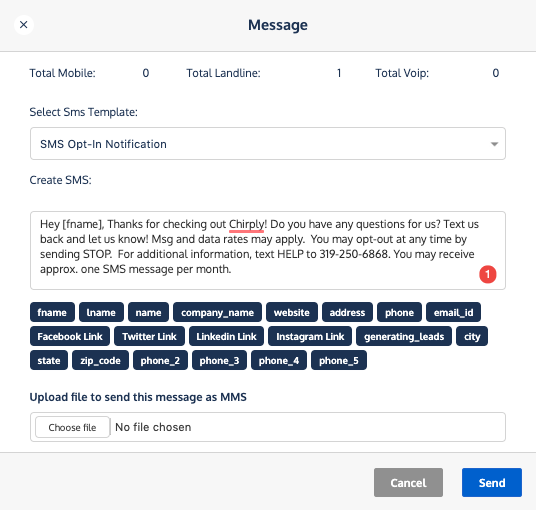 Chirply allows you to easily send or receive text messages from your leads and follow-up on the go by logging in from your mobile device. You can send a bulk text campaign and watch the responses come in real-time or review them later in your message logs to follow-up.
The Chirply platform also allows you to easily create SMS autoresponders. This works by replying to keywords you set up inside of your dashboard for inbound lead nurturing or automation of your onboarding and sales processes.
Text "DEMO" to 319-250-6868 to see how this feature works!
Chirply's Best Text Messaging Features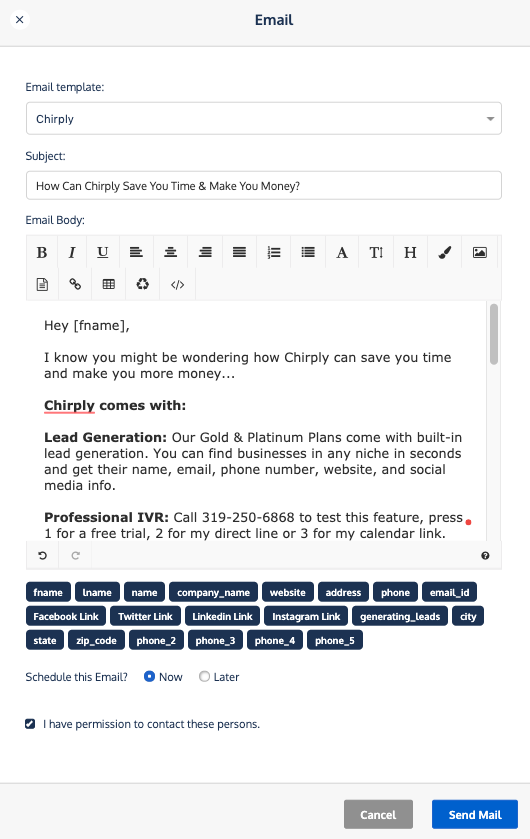 Do you have a database of leads that you want to sell to or nurture?
Although open rates tend to be lower than text message marketing, email marketing is still a tried and true follow-up method. The Chirply platform also allows you to easily create email templates and drip campaigns to follow up with leads automatically.
With an email drip campaign or nurture sequence, you can better explain how your product or service will help your end customer and convert interested leads into buyers on autopilot.
You can send sales emails, without any technical frustration or marketing know-how. You can select who you want your message to go to and automate your entire campaign with a few clicks of a button.
Chirply makes it simple to send drip marketing and nurture emails to your leads. You can craft the ideal email marketing campaign, and then quickly launch those emails at scale.
Chirply's Best Email Marketing Features

Chirply's campaign builder allows you to create custom automation sequences with various triggers. You can schedule these automations to fire off immediately after the trigger, or after "X" amount of minutes, hours or days have passed.
You can integrate text messaging, email, ringless voicemail drops, outgoing IVRs, sales bridge calls and more in your campaigns.
Chirply integrates with Zapier, which makes it easier for you to connect to thousands of apps – including many you may already use. Here are some of the apps you can integrate with Chirply via a Zap:
How Chirply Can Benefit Your Business
The biggest advantage of using Chirply is its robust feature set and automation capabilities. You can upload a list of leads and use the power dialer to contact them automatically, send a bulk SMS campaign or an email drip sequence.
You can automate your inbound marketing with an SMS autoresponder and professional IVR that allow you to connect with hot leads and screen leads who might need more nurturing.
You can focus on sales instead of initial contact, which means more productive conversations with interested parties and less grinding on the phones trying to find a lead.
Chirply has three packages from Tri-Johnson, depending upon the size and complexity of your marketing needs. Whether you're a bootstrapping solopreneur or the head of an agency, there's a plan that can fit your budget.
*Pricing Accurate As Of 05/01/2020
Getting Started - How Easy Is It To Use?
Chirply can seem a bit daunting at first, but if you take some time to get familiar with each feature--it is actually very simple to use.
The first step is to choose a plan that makes the most sense for you. After you register you will be taken to a confirmation page where you will begin your onboarding (and get $10 in Twilio credits--woohoo!). You will then create a Twilio account and connect it to Chirply. The training videos in your dashboard make this a breeze.
Once Twilio is connected, you can follow the training videos to get the most out of each feature you'd like to use. It will take less time to get your account connected, buy your first local number, upload leads and send your first campaign than it would to contact 12-15 leads manually.
What Do Other Chirply Users Have To Say?
Chirply is highly regarded by users who have put it to work in their business. It replaces many other software tools and is a cost-efficient way to automate your inbound and outbound marketing. Here are a few reviews from Chirply users: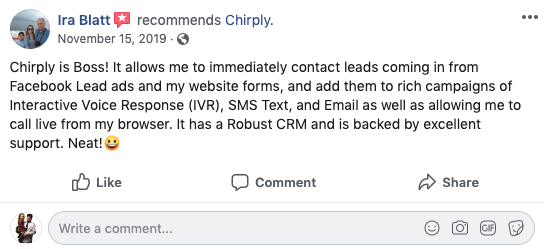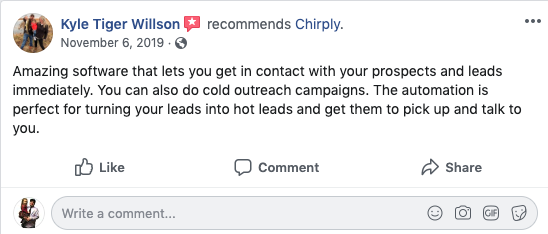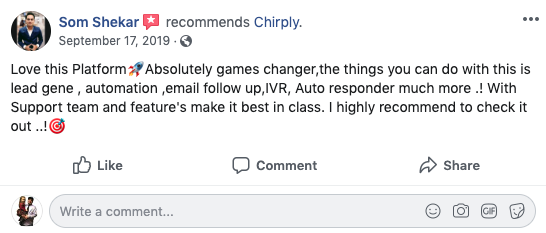 Chirply Frequently Asked Questions
No! We give constant updates to our software, add new features and you get it all for FREE! Because Chirply is on the cloud, when we make an update or add new features, they automatically show up in your account!
No! We created Chirply so you can access it from anywhere with an internet connection! Just login, start clicking, and you can build all of your custom links, branded links, file links, social links, and more right from your browser!
Yes, but not from us! You will also have usage fees that you pay directly to Twilio. Twilio charges $1/mo for local or toll-free phone numbers, .0075 per SMS message, .085-.13 per minute per call. For more info see their pricing page.
After signing up you will receive an email with your login information for Chirply. It is recommended that you log in and change your password to keep your account secure!
Chirply is an all-in-one marketing system. For cold calling you geta power dialer! You can also send text messages, emails, and set up automated drip campaigns!
Yes! Chirply has a support team for technical questions built into the software under the support tab. You can also feel free to contact me for support questions. Just click on the "Contact" tab on this website if you ever need to get in touch!
Yes! We offer a 7-Day Free Trial of Chirply. If you don't like the software or want to cancel for any reason just send us a message at support@trijohnson.com within 30-Days and we will refund your purchase