"Lost time is never found again."
Facebook selling is a great way to drive revenue for small businesses because of the massive user base. But it takes time to find and nurture leads!
You're looking for a way to save hours on FB and have heard of Chatsilo which promises to do this.
But is this is the best solution for you?
Do you know of a better alternative?
Never fear, you're about to learn about the best Messenger CRM alternative without wasting another second on Chatsilo.
What Is Chatsilo?
Chatsilo is a software developed to help organize your Facebook messenger, marketplace and pages.
It helps you to nurture your leads in Facebook Messenger. You can track your leads, conversations, and more using tags.
Why Do You Need An Alternative To Chatsilo?
When you invest your time and money, you need to make sure that you get as many features as possible that will save you time or make you more money.
The main goal of adding an extension or tool to your Facebook sales process is to automate the repetitive tasks and streamline your sales.
When you automate you get time to concentrate and work on your sales process, thus freeing up your time to make more sales and money.
What Is Genius Messenger CRM?
Genius Messenger CRM is a FB Messenger tool that systemizes and automates your sales process. It organizes your FB Messenger into a visual sales pipeline with color coded labels, notes, notifications and canned responses at the click of a button.
Genius Messenger CRM allows you to track your leads through the sales process, easily jump back into conversations and never miss another sale on Facebook.
The best part about Genius Messenger CRM is that it saves you hundreds of hours and systemizes your sales process to help you make more money.
Chatsilo vs Genius Messenger CRM
Would you pay for multiple tools to manage FB Messenger? I don't think so. It's just one platform and you should only need one subscription to manage it.
The key then is to find the best tool for the job. Which Facebook Messenger CRM has the most features and gives your the most bang for your buck?
Can you create custom labels?
Yes. Both Genius Messenger CRM and Chatsilo offer you the ability to create color-coded custom labels or tags for your clients, so you never mix up or lose them.
Yes. Both Genius Messenger CRM and Chatsilo offer you the ability to create individual notes for each contact. Genius Messenger allows you to do this right from Facebook Messenger CRM with an easy-to-use interface.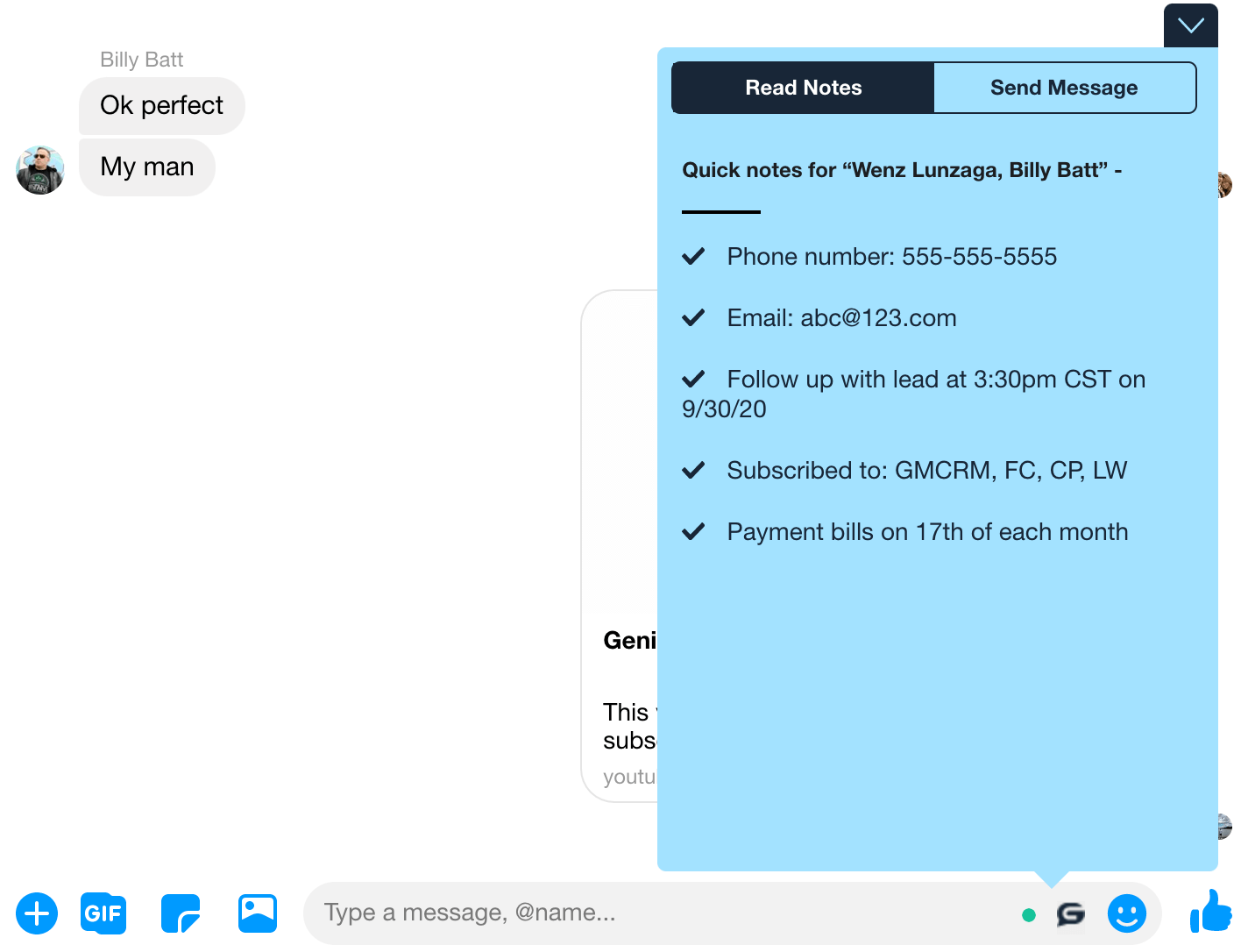 Do you need message templates?
Yes. Who wouldn't want to have pre-written templates for messages that you can easily send to your clients without spending a lot of time creating a message for each step of the sales process?
Both Genius Messenger CRM and Chatsilo offer you the ability to create templates.
Both Genius Messenger CRM and Chatsilo allow you to customize messages with your client's name to automate your process.
They key difference is Genius Messenger CRM allows you to store unlimited canned responses right inside of FB Messenger with text, images and even emojis included for easy retrieval.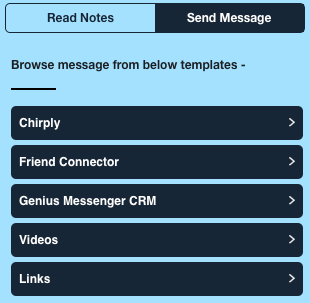 Technology comes with issues. Sometimes we get stuck and need some help!
Chatsilo has been around for awhile and has not added any new features or improvements.
Genius Messenger CRM launched in September 2020 and has already had massive upgrades!
Not only that but there is a dedicated support and development team constantly working to improve the software.
Genius Messenger CRM even has a growing Facebook community you can join to let them know what you'd like to see added next!
Genius Messenger CRM has a dedicated support team available on live chat, email support, and dedicated Facebook group support.
Do you need to create a data backup?
Chatsilo has an export function to backup your contacts to a Goolge sheet.
Genius Messenger CRM is taking things a step further! They have an export all function that allows you to export everything including all of your labels, canned responses and tags as well as your contacts.
Genius Messenger CRM also includes a simple export which gives you access to contacts only and automates the next steps into whatever application you'd like via Zapier.
You can also get your Facebook contact's phone number and email with Genius Messenger CRM, a distinct advantage over Chatsilo.
Do you need lead generation on FB?
Do you need to get more leads and sales on Facebook? Of course! That's why you need a FB Messenger CRM.
With Genius Messenger CRM you have the option to add Friend Connector for just $10/mo. This will allow you to send automated friend requests and messages based on targeted keywords to grow your FB friend's list on autopilot.
Chatsilo doesn't have lead generation technology or a partner software for automating friend requests.
$37 + Free Trial

$29 + Free Trial

Pricing

✓

✓

Labels

✓

✓

Notes

✓

✓

Canned Messages

✓

⤬

Follow-Up Notifications

✓

⤬

Full-Time Dev Team

✓

✓

Data Export

+ $10/mo

⤬

Automated Friend Requests Based On Keywords

✓

✓

Facebook Group & Email Support

✓

⤬

Quick FB Messenger Access

✓

⤬

Add, Edit, Delete Messenger Notes

✓

⤬

Add, Edit, Delete Canned Reponses In Messenger

✓

✓

Google Calendar Integration

✓

⤬

iCal Integration
A Facebook Messenger CRM software simplifies your tasks, helps you make better use of your time, automate repetitive tasks, and keep track of your sales pipeline on Facebook.
It's important to invest in a tool that will continue to grow, innovate and evolve with you for the long term.
Genius Messenger CRM is the best tool for the job now and in the future, as it was built by digital marketing pros who use Facebook for social selling everyday.
Comparing the features above you can see that Genius Messenger CRM is the clear winner. If you've used Chatsilo in the past, you'll see that Genius Messenger CRM is an improvement in every way, and is even more visually appealing with an improved UX/UI.
Genius Messenger CRM meets all of your needs for a Messenger CRM and even allows you to add new friends automatically with the bundle plan. If you're looking to automate and systemize your sales process on Facebook, go ahead and try Genius Messenger CRM for free.