Happy Birthday Chrome Extension Partnership
Offer This Amazing Chrome Extension As A High-Value Lead Magnet Or Upsell!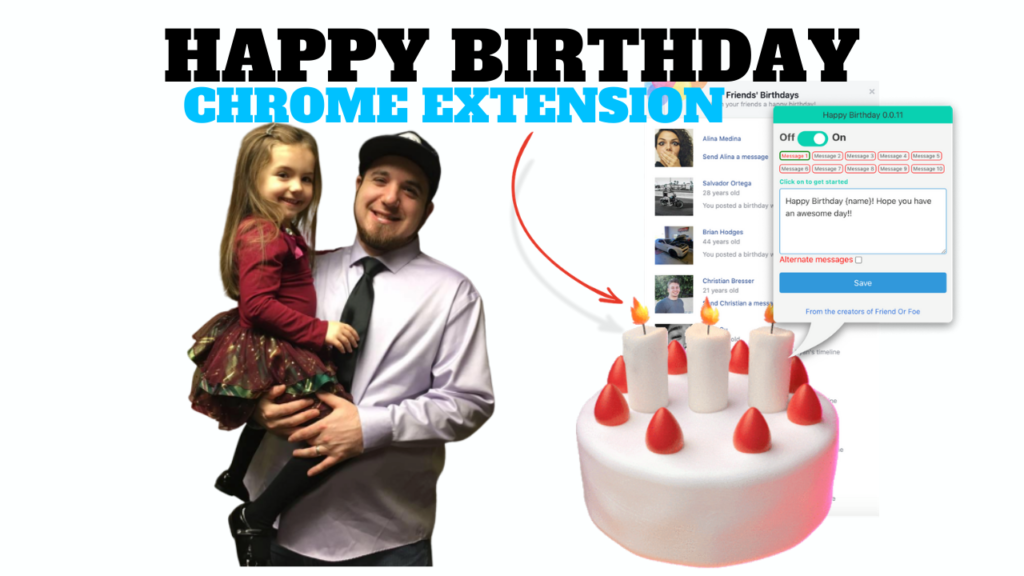 WHAT IS THE Happy Birthday Chrome Extension?
The Happy Birthday Chrome Extension is an easy-to-use digital marketing software that gives you a daily head start on Facebook and LinkedIn by automatically wishing your friends and connections a Happy Birthday!
You can choose up to 10 different messages and include emojis. Every day this extension will automatically find all of your friends and connections on Facebook and LinkedIn and post a message on their wall (tagging their name) helping you stay connected and boosting your reach!
In addition to getting a copy of the Happy Birthday Chrome Extension for your own personal use you can also SELL, GIVEAWAY or create your own partner program around this tool!
…that's right! After you grab your copy of Happy Birthday it is yours for life to use in your own business and offer as a high value lead magnet to anyone else you want, too.
Here's a sneak peak at what it will do for you:
This simple Chrome Extension does its job. It allows you to automatically post a Happy Birthday message on your friends' timelines on Facebook and also works for your LinkedIn connections!
In simple terms, the Happy Birthday Chrome Extension boosts your engagement and keeps you connected with your friends and connections which helps with all of your marketing on these platforms. It would even work great for someone outside of the marketing space just to stay on top of wishing friends and family a Happy Birthday!
…and what if this was all you got for just $197? Truth be told, it would still be an amazing deal. But wait, when you buy Happy Birthday you're also getting:
My Done For You Graphic To Help You Sell It
A Link Wizard Starter Account For Tracking Clicks & Sales
The Million Dollar Ad Swipe Library + Bonus Rights
Ultimate List Of Lifetime Recurring Affiliate Programs + Bonus Rights
CF Share Funnel Library + Bonus Rights
CF Easy Page Cloner Chrome Extension (Clone Any Funnel!)
This Happy Birthday Chrome Extension Bonus offer is bound to bulk up your bonuses and save you a TON of time!
Here are those high quality BONUSES you get with the Happy Birthday Chrome Extension Partnership:
Not only are these bonuses worth more than the price of admission, but you will be able to leverage them even if you no longer want to use or promote Happy Birthday!
And again, this is not only a personal account for the Happy Birthday Chrome Extension. You are going to be able to resell, give away or create your OWN partnership around this amazing software. 
So, that should answer the question of "What is the Happy Birthday Chrome Extension?" However, if you have any other questions, feel free to send me an email here or leave a comment on my YouTube video. I'm always happy to (and WILL always) answer any questions you may have!
Now, if you're getting as excited as I was when I decided it's only $197 for all of this… Feel free to click the button below to get instant access and secure your Happy Birthday Chrome Extension PLUS bonuses before the price goes up!
WHO IS THE HAPPY BIRTHDAY CHROME EXTENSION FOR?
So, who is The Happy Birthday Chrome Extension for? Well, if you're currently doing organic marketing on Facebook or LinkedIn then this is a must have tool for you.
And I don't just say this because I use Happy Birthday or because I believe in Happy Birthday… I say this because I have been HEAVY into marketing online, business and software for the last two years. Finding tools to automate your daily process is your BEST SHOT at long term success.
Being able to count on the Happy Birthday Chrome Extension to stay engaged with your friends and connections for you will not only save you the time needed to hace more impact on your connections, but it's going to free up money and headspace, and so, INCREASE your PROFITS!
Also, the Happy Birthday Chrome Extension Partnership is not only for you if you want to personally increase your organic reach and engagement… but you want to offer this high value software tool to your followers as a lead magnet, order bump or upsell… and again, in turn, have this INCREASE your Leads, Sales, and PROFITS!
Are you ready to take action and super charge your Facebook and LinkedIn PLUS unlock these powerful bonuses today? Click the button below to get instant access now:
YOUR HAPPY BIRTHDAY CHROME EXTENSION BONUSES
When it comes to bonuses, you should know that I chose this specifically because they are bound to help you make an even juicier offer with the Happy Birthday Chrome Extension partnership.
Below you will see my personal value-adding Happy Birthday Chrome Extension bonuses that will actually provide you with MASSIVE value and level up your bonus offer! Software is king when it comes to bonuses...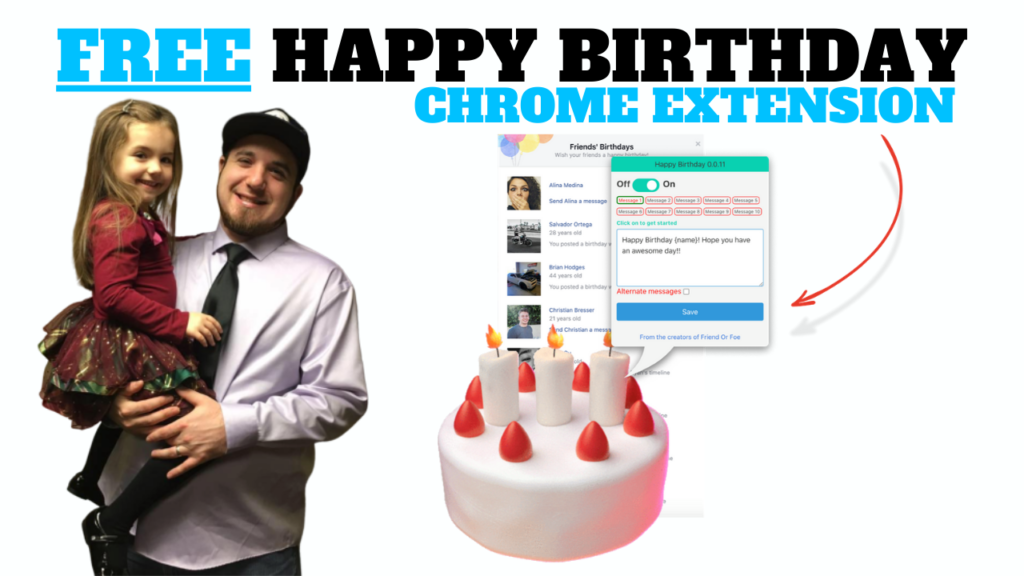 BONUS #1 - HAPPY BIRTHDAY LIFETIME
If you're starting your online business the #1 thing you'll need is traffic to your offers. That's why I want to give you the software and support you NEED to get consistent FREE traffic to your funnels.
People will say that you need to learn to run FB ads to scale, this and that, but it's not true. I know several people making six and seven figures using only organic marketing.
Happy Birthday is a very simple Chrome Extension that you'll have lifetime access to even if you end up deciding you don't want to offer it to anyone else (crazy) that automatically sends birthday messages to your friends and connections on LinkedIn.
This simple tool will increase your engagement and boost your posts to friends and connections on autopilot once it's set up. It only take five minutes to get it installed and running and it will continue to bring you more engagement from then on!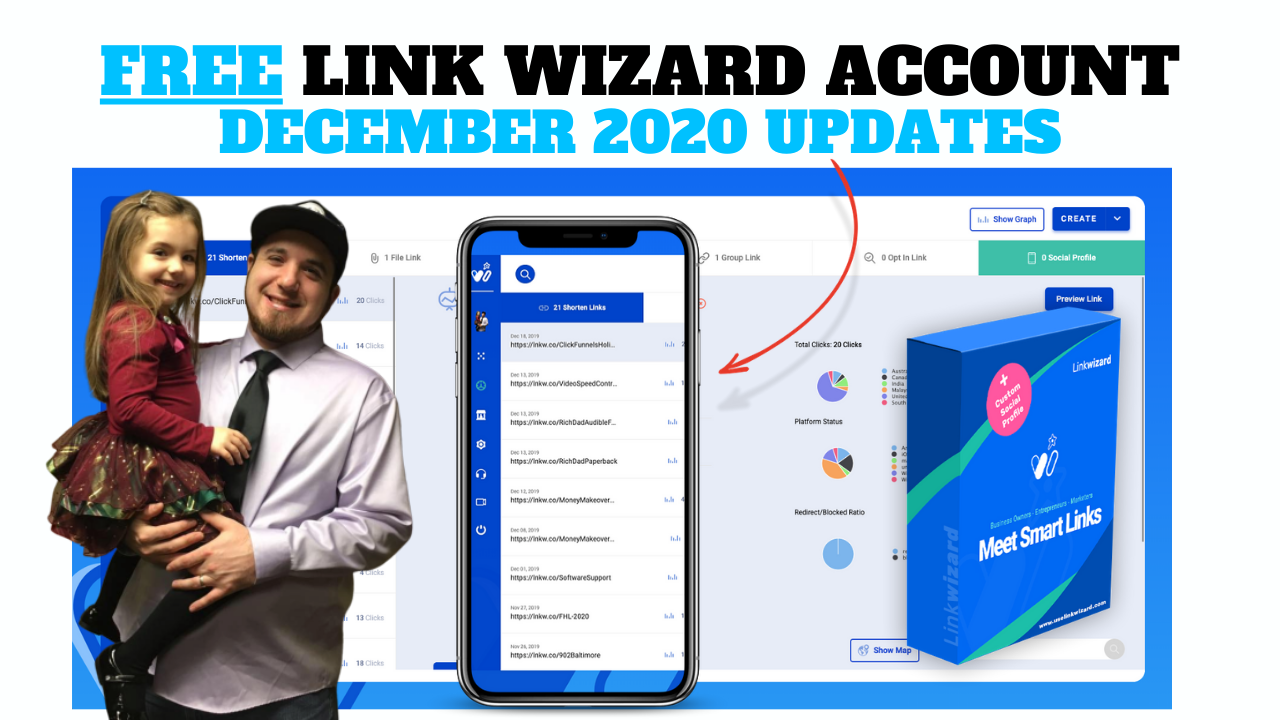 BONUS #2 - LINK WIZARD STARTER
Everyone needs to know their metrics and how to increase their conversions but how many are actually taking the time to increase them? You NEED to have as many tools as possible to gather crucial data.
Many URL shorteners do just that, they simply fall short. You need a tool that will give you multiple link options and increase your clickthrough and conversion rates.
Link Wizard is an advanced link tracking and URL shortening tool. You can create short links, file links, optin links, rotating links, social links and more. Once you have your account set up you will have total control over your links.
This software allows you to change the destination URL at any time and even add a Facebook Pixel directly to your links. You can add your custom domain to build your authority and increase trust from your followers. Who knows what's behind those Bitly links anyways?

These lead magnets will work wonders for beefing up ANY offers you have online. You'll have access to them yourself to use, as well as unlimited reseller rights.
That's why I'm giving you access to these bonuses and additional images to use in your offers. You will easily be able to increase the value of any offer you make by adding this bundle (or individual) bonus stack!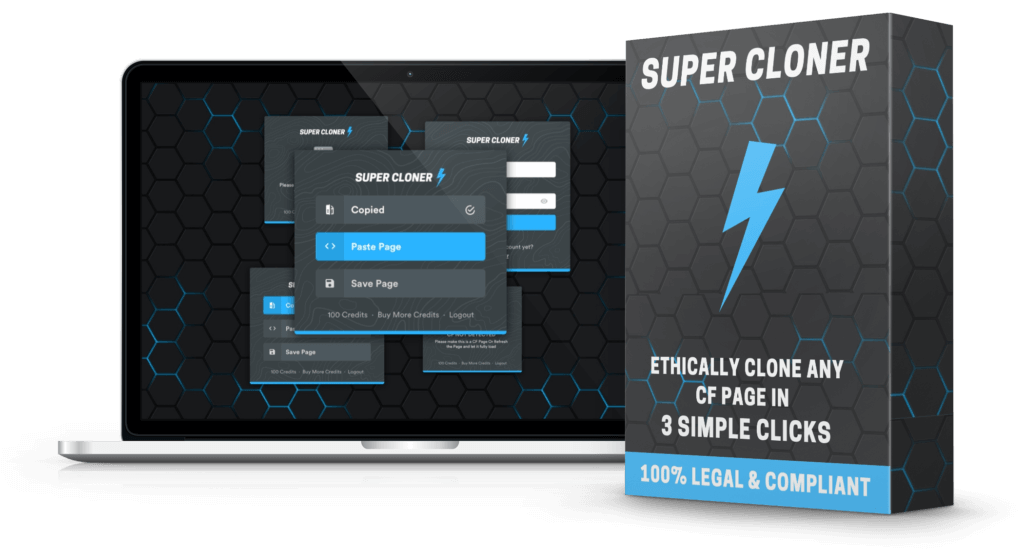 BONUS #4 - CF FUNNEL CLONER
This bonus is probably one of the most important bonuses IF you use ClickFunnels!
The ClickFunnels funnel cloner does just that… instantly clones ANY ClickFunnels funnel to paste into your account. No more expensive funnel designers needed!
HAPPY BIRTHDAY CHROME EXTENSION PRICING
Now, you may be asking "How much does the Happy Birthday Chrome Extension Partnership cost?" and if so… it's just $197 ONE TIME (CURRENTLY) for this partnership. I say currently, because this partnership is going to increase soon. **P.S: Even if this partnership tripled in price – that is still AMAZING**
I posted this offer without ANY bonuses on my personal Facebook profile when I first launched. I had four people sign up within a couple of hours! They can now offer this as a bonus, resell it or do anything they want with the Happy Birthday Chrome Extension!
The funny thing is, I've watched my mentor launch MANY software partnerships over the last two years! He always launches for a low fee and everyone who is quick to take advantage gets an AMAZING deal. Then he raises the price! Even MORE people jump in before the price goes up AGAIN. I started following him so I wouldn't miss out on the best deals.
With that being said, you definitely don't make the same mistake with the Happy Birthday Chrome Extension partnership! Take action before the price goes up and get price locked into your access for life, at the lowest price it will EVER BE! Join the partnership below and get instant access!
HOW TO RECEIVE YOUR HAPPY BIRTHDAY BONUSES
Email [email protected] with a picture of your receipt (or forward it to me) and I will send you an email with all of the information you need to access your free bonuses. You'll also be in my system when you sign up, and I'll have an automation in place to send your bonuses out once I verify your sign up, but this will be the sure-fire way to get your access ASAP!
Remember, business is a long-term venture. If you're willing to put in the work… this will change your life forever! If that's you, let's go! I love helping motivated action takers... But please don't purchase this if you're thinking this is some "magic pill" or "get rich quick scheme." (Those DO NOT exist!)
However, with this partnership, I can give you just a litte bit of the knowledge and software that has taken me over two years to gain and help you fast-track your success. Obviously, I can't guarantee any results… But I can promise you that you won't be disappointed, as long as you follow my advice and take consistent action!
And with that being said, if you're ready to start CRUSHING IT online with the Happy Birthday Chrome Extension Partnership, CLICK THE BUTTON BELOW TO GET INSTANT ACCESS! (then, send me an email to receive your bonuses)
Are you ready to get the Happy Birthday Chrome Extension? Click the link above for access! Questions?Comments? Drop them below!