GET 'EM UNDER THE D.O.M.E. CONTEST!
HELP GROW THE GROUP AND WIN PRIZES LIKE $100 AMAZON GIFT CARDS & MORE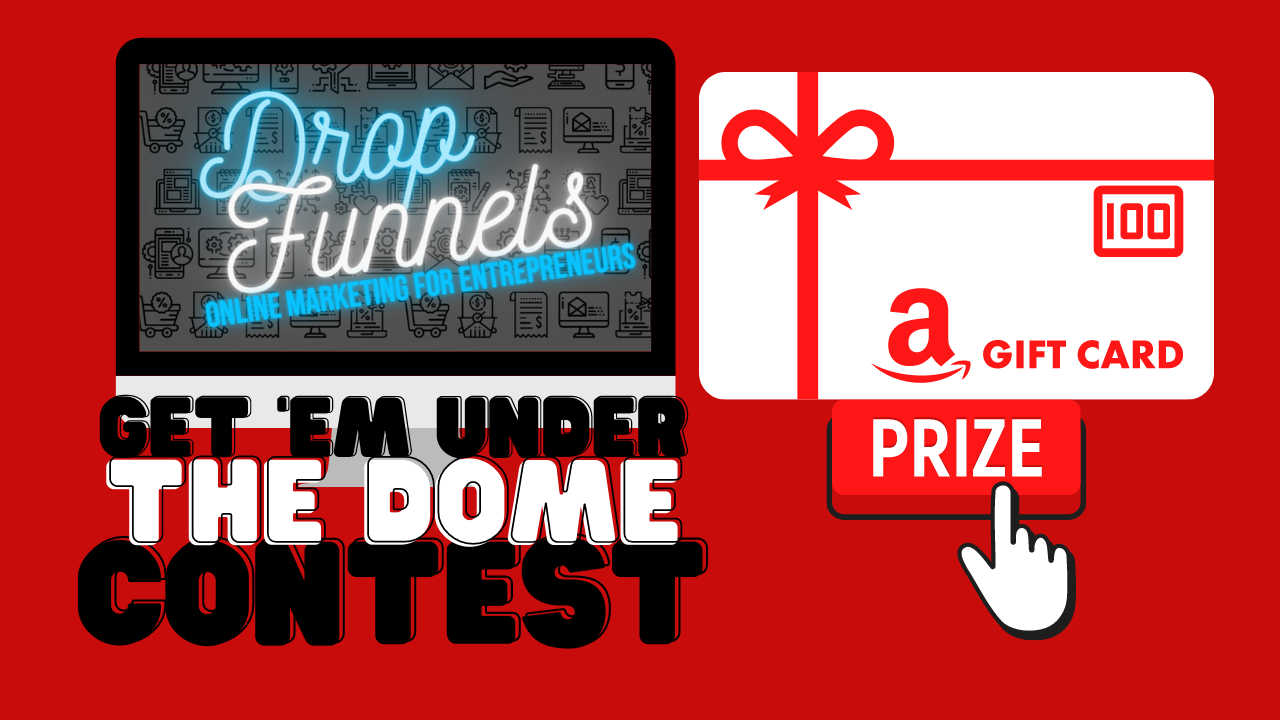 No purchase necessary.

Purchase does not enhance the chance of winning.

Void where prohibited.

Hosted by Tri-Johnson Marketing Solutions, LLC.

CONTEST STARTS: December 4, 2020

CONTEST ENDS: December 18, 2020

Eligibility requirements:

Must have active Facebook account and be a member of or join the DropFunnels Online Marketing for Entrepreneurs (DOME) Facebook group.

Enter this contest by referring new group members and tagging them in the group post inside the DOME Facebook Group.

Grand Prize:

Lifetime Ultimate Software Bundle (Massive Value)

+ $100 Amazon Gift Card

Prizes:

Custom Funnel Build In DropFunnels

5 Happy Birthday Accounts - Give Away or Resell

Premium DropFunnels Funnel Template

$50 Amazon Gift Card(s)

Your Prize (One Software LTD of YOUR choice)
Winner(s) will be announced on December 19, 2020!

Rules:




Must Invite AT LEAST 10 people to the group to qualify.




Contest runs through December 18th, 2020.




If someone you invited joins the group, tag them on the contest post (combine multiple tags where possible) in the group. We will tabulate the results after the contest ends!




There will be AT LEAST ONE Grand Prize winner if someone tags 10 people they've invited. If multiple people invite and tag 10 or more people, the additional prizes kick in. If at least 6 people tag 10 people--each prize tier will be given away at least once!




Multiple prizes can be earned and there will be more given away with more participation. Let's make this group AMAZING and have more giveaways in the future. Good luck!

Grand Prize winner will be the person who invites and tags the MOST people in the contest post. Secondary prizes will be awarded for every 10 people referred during the promotional period. Every 10 people referred earns you ONE chance to win a prize. Contestants will be added to an EXCEL spreadsheet and selected using random number generator.

Final contest winners to be chosen at the sole discretion of Tri-Johnson Marketing Solutions, LLC. Must enter to win!

Odds of winning depend on how many particpate in the contest! You can increase your odds of winning by referring more group members during the promotional period.

QUESTIONS? Mail to:

Tri-Johnson Marketing Solutions, LLC
PO Box 32, Waterloo, IA 50704
DropFunnels is a new and powerful all-in-one marketing platform making waves in the online community! People are calling it the "ClickFunnels Killer" … but to be honest, they aren't really even in the same category.
Yes, ClickFunnels is very powerful. But ClickFunnels is a sales funnel builder (and they definitely do that VERY well)… and yes, DropFunnels is a sales funnel builder with 1-click upsells, downsells, secured checkouts, and all of that too – but it's so much more than just that.
Besides all of those amazing abilities that come along with a drag-and-drop sales funnel builder, with no coding required…
…you can also create an SEO Optimized Authority Site that will actually Rank on Google. Because you have a main website where you can create blogs to help grow your authority, your sales funnels will  be able to rank on google much easier, too!
Here's what your main website can look like right out of the box:
As you can see on the left of that picture, there are modules. This is how you will create the base of your website and all of your funnels. And DropFunnels (DF) has 90+ modules (along with WordPress widgets) to select from to customize your website/sales funnels beautifully and without needing to code at all.
In simplest terms, DropFunnels allows you to create authority websites and funnels (faster & easier) WITHOUT any coding, tech, or hiring expensive programmers…
…but what if that was it and there was nothing else? Truth be told, it would still be an amazing product. However, DF also has the ability to do all of this:
Create Unlimited Membership Sites
Track Leads & Sales with the Built-in CRM
Create One-Time and Recurring Products
Create Unique Headers & Footers That You Can Turn ON or OFF at Anytime
Create Unique Tracking Links with Built-in Link Tracker
Share Your Funnels/Websites with 1-Click
And that's just scratching the surface! But the thing that truly made me decide to make the switch to DropFunnels is quite simple… LOAD SPEED! (This is because it's built on the WordPress infrastructure).
Website load speed is the most overlooked (and important) thing that most online business owners don't even realize. Websites that take longer than 3 seconds to load have a huge impact on conversion rates. (This means you will be LOSING leads AND sales).
Here are the page speed tests on GTmetrix with a ClickFunnels Funnel vs the same funnel built in DropFunnels. Here are the results:
Not only are the funnels built on DropFunnels much faster… but they're faster than any other website I've ever seen or created myself. It's absolutely INSANE!
And again, this is not a dig at ClickFunnels (I just want to be clear). CF just happens to be the software that I was personally using BEFORE DropFunnels was released. And I have to give credit where credit is due, because DF's features and speed are undeniable. 
So, that should answer the question of "What is DropFunnels." However, if you have any other questions, feel free to send me an email here or leave a comment on my YouTube video. I'm always happy to (and WILL always) answer any questions you may have!
Now, if all of this makes you as excited as it makes me… Feel free to click the button below to get instant access and secure your 14-day free trial to DropFunnels before the price goes up!
So, who is DropFunnels for? Well, if you're currently paying for Web Hosting, a WordPress Builder, a Sales Funnel Builder, and a Link Tracker… Switching to DropFunnels would definitely be the smartest and most cost-effective decision for you and your business, guaranteed!
And I don't just say this because I use DropFunnels or because I believe in DropFunnels… I say this because, whether you're just starting out, or earning a decent amount of income in your online business… Keeping your business costs LOW is going to be a huge factor in your success, guaranteed.
Being able to get rid of multiple software and use a single tool (DropFunnels) as your host, blog, website & funnel builder, link tracker, etc. is not only going to simplify your entire business, but it's going to free up so much money, and in turn, INCREASE your PROFITS!
Congrats! Your Now Have A SINGLE TOOL That Replaces The Core Abilities Of:
------------------------------
ClickFunnels (Save $97 - $297/mo)                                        SEO Tools & Plugins (Save $27 - $397/mo)
Lead Pages (Save $19 - $79/mo)                                             My Lead System Pro (Save $49 - $149/mo)
Kajabi (Save $149 - $399/mo)                                                  WordPress Hosting (Save $19 - $299/mo)
Unbounce (Save $99 - $499/mo)                                           Plugins & Themes (Save $19 - $299/mo)
Link Tracker (Save $19 - $97/mo)                                            SSL Certificates (Save $167/yr)                   
Also, DropFunnels is perfect for you, not only, if you want to grow your authority online… but you want to have your websites and funnels load faster than 90% of the internet… and again, in turn, have this INCREASE your Leads, Sales, and PROFITS!
Are you ready to take action and simplify your online business today? Click the button below to get instant access now:
BEST DROPFUNNELS BONUSES (SOFTWARE + SUPPORT)
It's crazy… people have started to think that the meaning of "the best bonuses" means "the most bonuses" and that literally couldn't be further from the truth, for a few main reasons. (see below)
These people putting together their "best bonuses" or "bonus stacks" typically just put a ton of useless bonuses in there (usually using crappy PLR bonuses they downloaded for free) and 99% of the bonuses have nothing to do with the product they're selling!
But sure… more bonuses may look good from the outside, but after purchasing… people never even end up using ANY of the bonuses due to overwhelm or just the realization that they aren't useful or valuable. And it's because of that, that I've found, when it comes to bonuses… LESS is actually MORE.
Below you will see my custom and relevant DropFunnels bonuses that will actually provide you with MASSIVE value and won't make you feel overwhelmed by having 1573354 different bonuses that you won't even end up using!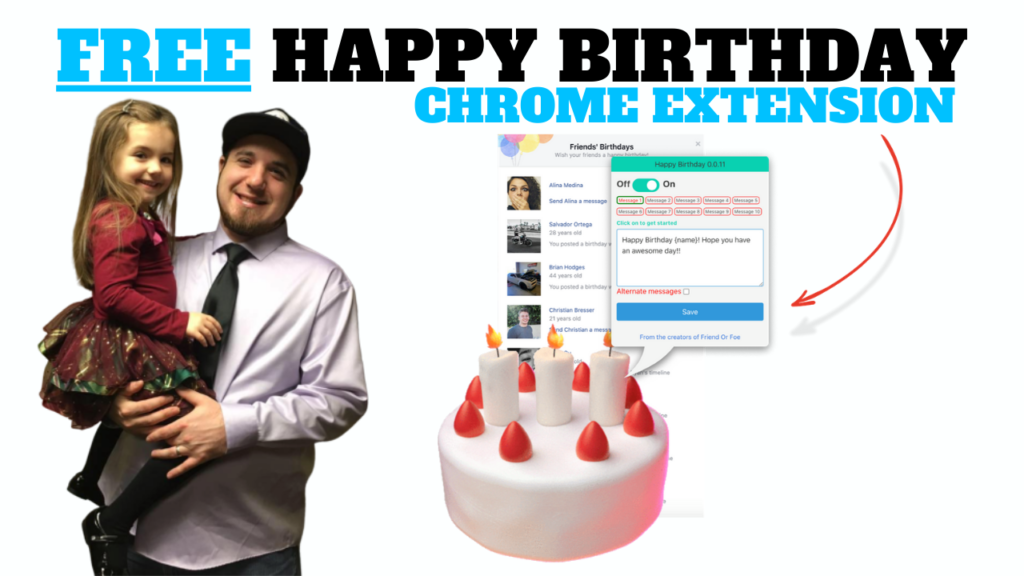 BONUS #1 - HAPPY BIRTHDAY
If you're starting your online business the #1 thing you'll need is traffic to your offers. That's why I want to give you the software and support you NEED to get consistent FREE traffic to your funnels.
People will say that you need to learn to run FB ads to scale, this and that, but it's not true. I know several people making six and seven figures using only organic marketing.
Happy Birthday is a very simple Chrome Extension that you'll have lifetime access to even if you end up deciding DropFunnels isn't for you (crazy) that automatically sends birthday messages to your friends and connections on LinkedIn.
This simple tool will increase your engagement and boost your posts to friends and connections on autopilot once it's set up. It only take five minutes to get it installed and running and it will continue to bring you more engagement from then on!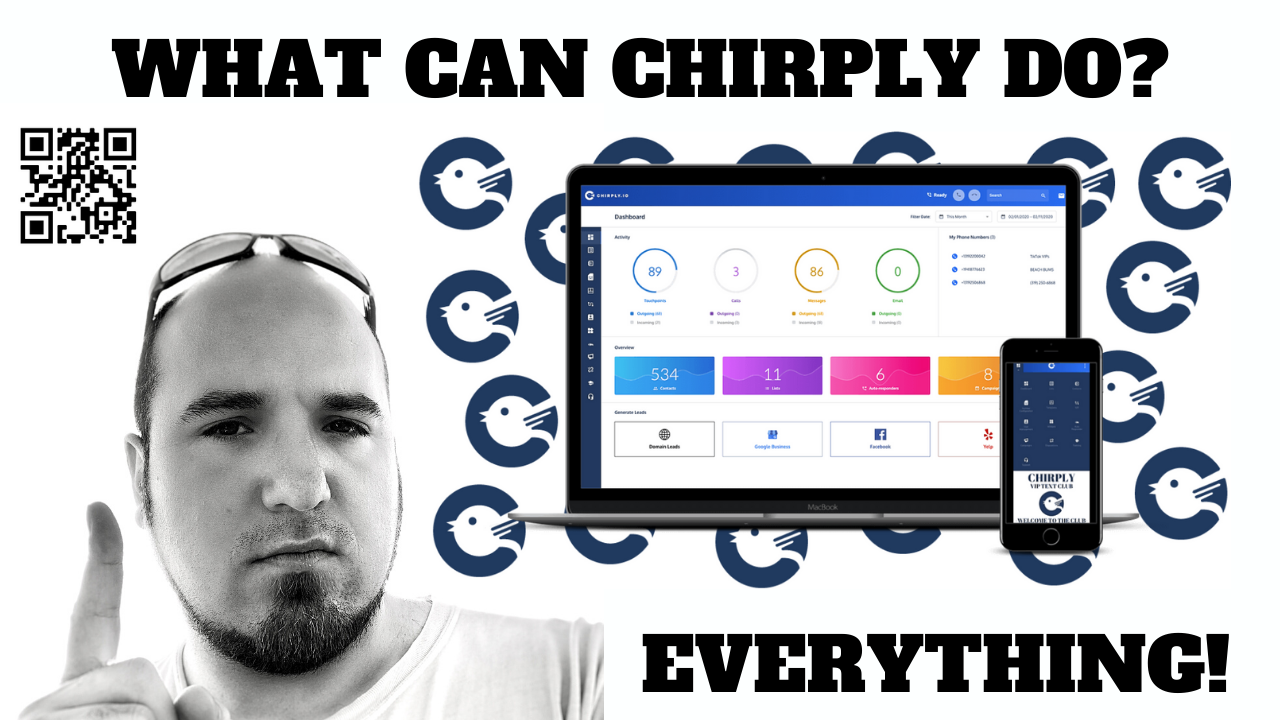 BONUS #2 - CHIRPLY STARTER
Everyone is going to tell you that list building is the #1 most important thing to start doing in your business. This is 100% true! Your list will become your greatest asset over time.
What people fail to tell you is there are many lists you can build aside from email. SMS marketing is growing like crazy and text message open rates are as high as 98% and opened within 3 minutes.
Chirply is an advanced inbound and outbound marketing automation software. You can send and receive text messages, calls, emails and more right from your browser. You can automate your marketing accross these channels with campaigns!
This software allowed me to grow my company on Facebook from $0 to over $2,500/mo in monthly recurring revenue. It is the premier software product of the suite of tools I'm a partner in and will be a conrnerstone in your marketing strategy.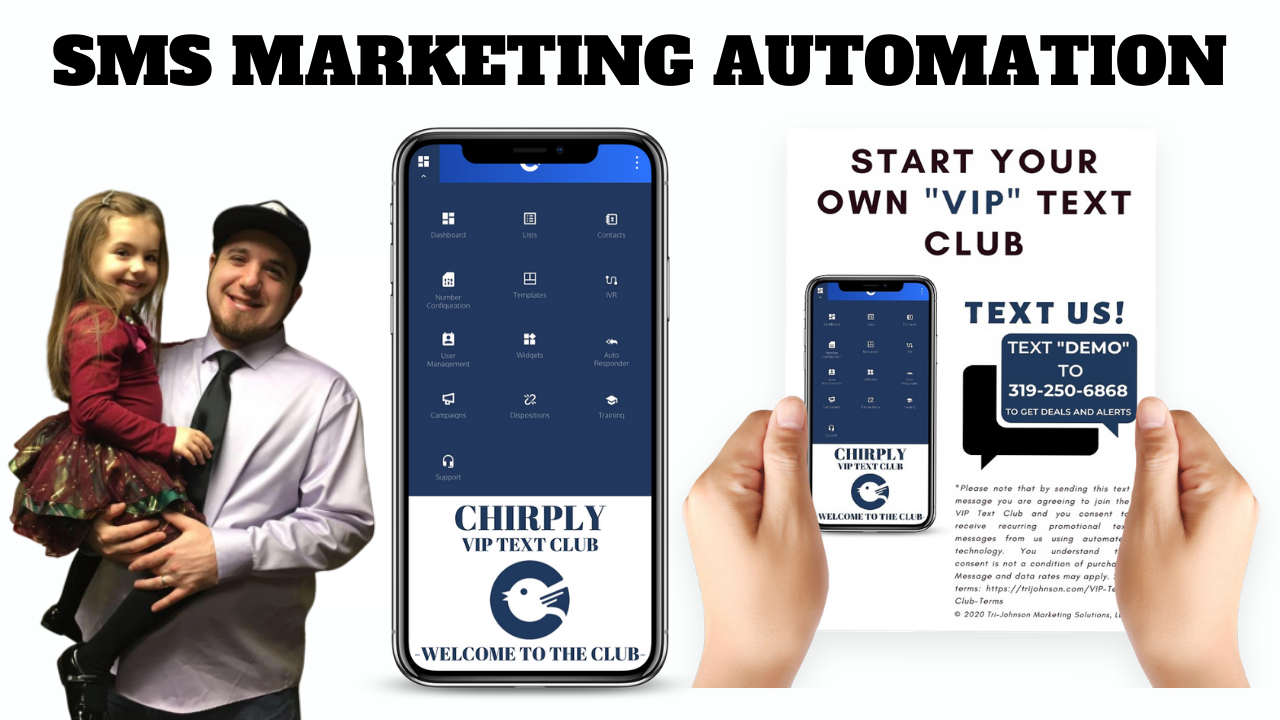 BONUS #3 - TRAINING & SUPPORT
Having proper support in business is truly the most important thing. Of course, having the proper software is key too. But without the knowledge, you have nothing.
That's why I want to help you start your business the RIGHT way! Obviously this isn't my paid coaching program, but I promise that I will provide more value than some paid programs out there.
**However, if you want to work with me more closely, send me an email here and we can see if we're a good fit**
And because I'm giving you the the software that I use in my business to generate leads and sales on auto-pilot, every single day, I figured it would be helpful to give you my training courses to set these up!
I will be giving you access to the FB Organic Marketing Automation course & the SMS Marketing Automation course. Also, you will have a page you can reference these courses and ALL of your bonuses at any time in the future.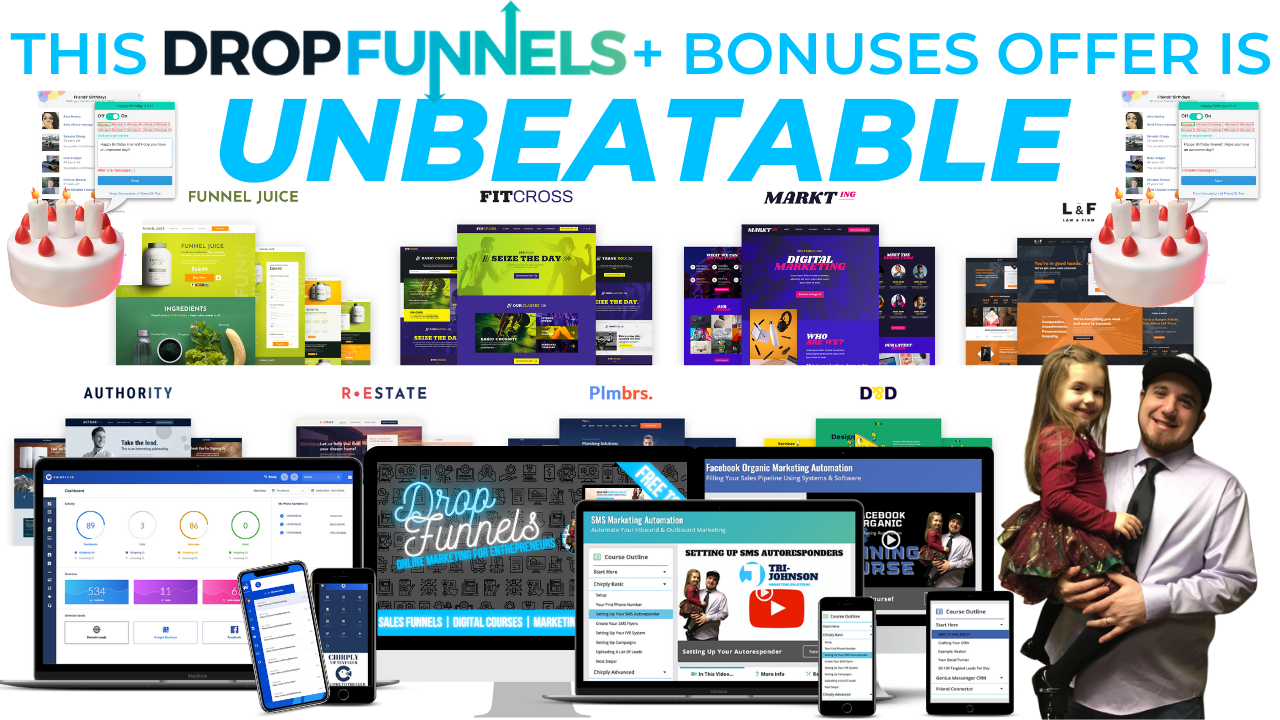 BONUS #4 - PRIVATE COMMUNITY
This bonus is probably one of the most important bonuses (it's actually two, but I put it into one). Having a strong community can be the difference between giving up and pushing forward!
And the DropFunnels community is one of the strongest around! Not only gives you access to the DropFunnels Private FB Community… (6,000+ and growing fast)
…but you also get access to all of the training from Jordan (the creator of DF) inside of the community, along with an insane amount of training inside of DropFunnels, itself.
In time, I plan to create my own DropFunnels course, which you'll get for FREE (once it's created) if you sign up for DF through the button below.
However, there is already plenty of DF training available and you will get access to it all, right NOW… for FREE!
Just click the button below to get instant access to your free 14-day trial before the price goes up!
Now, you may be asking "How much does DropFunnels cost?" and if so… it's just $149/m (CURRENTLY) for their highest tier plan. I say currently, because this plan is going up to increase soon. **P.S: There's a lower-tier $49/m plan – that is still AMAZING**
ClickFunnels did something similar when they first launched. Their highest tier plan at the time didn't even have a ton of features right away, and they price locked everyone to their highest tier plan for a much smaller price.
The funny thing is, a lot of people who got in at that smaller price… they canceled their account! To make things worse, they ended up getting back into ClickFunnels when the price was over $200 more per month!
With that being said, you definitely don't make the same mistake here! Take action before the price goes up and get price locked into the highest tier plan, at the lowest price it will EVER BE! Join the movement below and get instant access!
HOW TO RECEIVE YOUR DROPFUNNELS BONUSES
Email Derek@TriJohnson.com with a picture of your receipt (or forward it to me) and I will send you an email with all of the information you need to access your free bonuses. You'll also be in my system when you sign up but this will be the sure-fire way to get access ASAP!
Remember, business is a long-term plan. But if you're willing to put in the work… this will change your life forever! And if that's you, I'm here for you! But please don't purchase this if you're thinking this is some "magic pill" or "get rich quick scheme." (Those DO NOT exist!)
However, with my support, I can give you the knowledge that took me over a year to gain and will help you to fast-track your success. Obviously, I can't guarantee any results… But I can promise you that you won't have to make the same mistakes I made, as long as you follow my advice and take consistent action!
And with that being said, if you're ready to start CRUSHING IT online with the #1 all-in-one marketing platform, CLICK THE BUTTON BELOW TO GET INSTANT ACCESS! (then, send me an email to receive your bonuses)