Join The Genius Messenger CRM Partnership!
Partner Up With Us As A Reseller And Keep 100% Of The Revenue
WHAT IS THE GENIUS MESSENGER CRM PARTNERSHIP?
Genius Messenger CRM is a Google Chrome Extension that works in Facebook Messenger. It's a must have tool for anyone who is talking with clients and closing deals on Facebook. It pretty much turns your normal Facebook Messenger into a full blown CRM and sales pipeline!
With Genius Messenger CRM you can easily create a color coded sales pipeline to manage your sales process! You will be able to tag leads, create canned responses, add notes for each contact, capture emails and phone numbers, schedule follow-up notifications and much more.
In addition to utilizing this powerful tool for your personal use you can also resell and create your own offers around Genius Messenger CRM after you join the partner program!
…that's right! After you join the Genius Messenger CRM partnership you'll have some amazing new tools to use in your own business and offer them to anyone else you want, too. Genius Messenger CRM will help boost your effectivenss on Facebook and you'll be able to keep 100% of the revenue you generate from selling the software!
Here's a sneak peak at what's inside the Genius Messenger CRM partnership: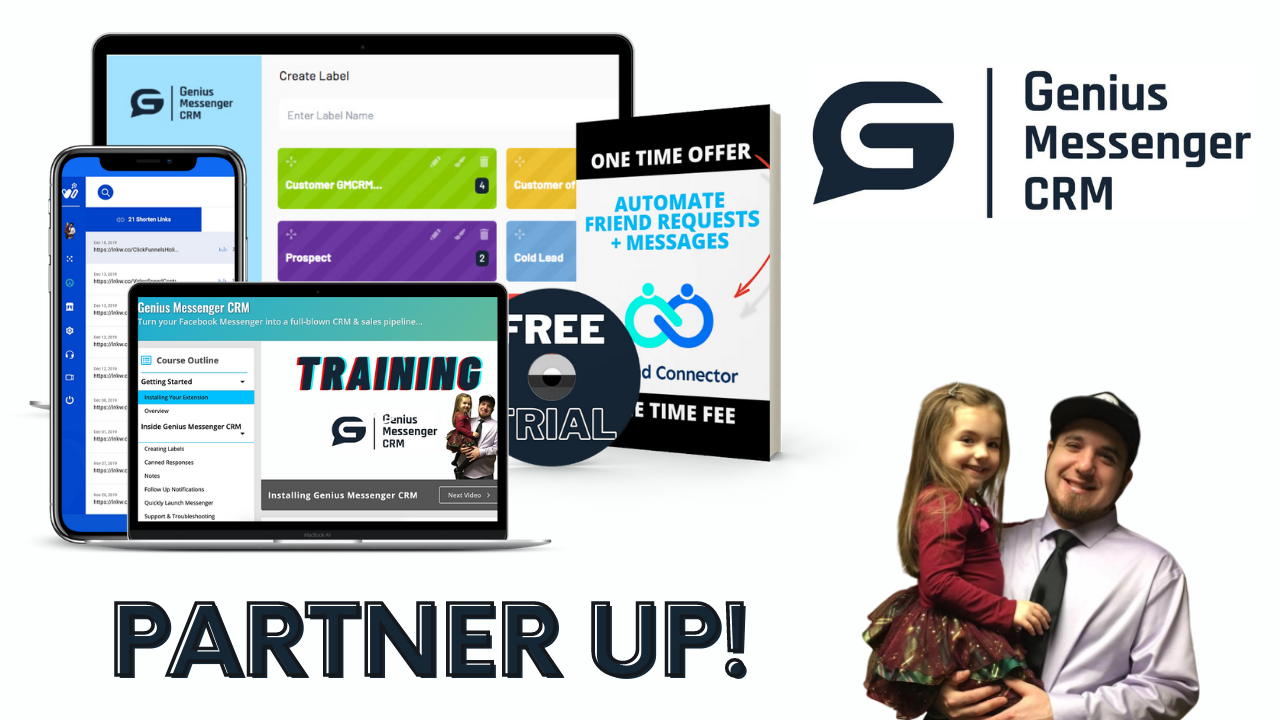 DISCLAIMER: These are MY personal results of monthly recurring revenue after working to get subscribers and putting in effort. I had the benefit of massive desire to achieve financial freedom and two years of experience in online marketing. Your results may vary depending on the amount of effort you put in. You may not achieve ANY results or return on your partnership fees!
Genius Messenger CRM is one of the core tools I used to scale my business organically on Facebook! By joining the Genius Messenger CRM partnership you have access to the same tools I used to grow my business to $5k/month and the ability to keep 100% of the revenue you generate as a reseller partner.
In simple terms, the Genius Messenger CRM partnership takes you from user to SaaS owner. You can become a partner and leverage our network and resources to get up to speed fast! One of the best things about Genius Messenger CRM is it fills a real need for business owners on Facebook... and as a partner you get passive income and unlimited earning potential.
…and what if this was all you got with the partnership? Truth be told, it would still be an amazing opportunity. But wait, when you sign up for the Genius Messenger CRM partnership you're also getting:
The Happy Birthday Chrome Extension Partner Program
The Million Dollar Ad Swipe Library + Bonus Rights
Ultimate List Of Lifetime Recurring Affiliate Programs + Bonus Rights
CF Share Funnel Library + Bonus Rights
Genius Connector Account For Automated FB Outreach (User)
Legendary Leads Account For Inbound & Outbound Marketing (User)
The Genius Messenger CRM partnership is bound to bulk up your business and save you a TON of time!
Here are those additional high quality BONUSES you get with the Genius Messenger CRM partnership:
Not only are these bonuses worth more than the monthly price of the partnership, but you will be able to leverage them for any other ventures you already have going on!
And with the Genius Messenger CRM partnership, this is not only a personal account for the Happy Birthday Chrome Extension. You are going to be able to resell, give away or create your OWN partnership around this amazing software as well. 
So, that should answer the question of "What is the Genius Messenger CRM partnership?" However, if you have any other questions, feel free to send me an email here or leave a comment on my YouTube video. I'm always happy to (and WILL always) answer any questions you may have!
Now, if you're getting as excited as I was when I found out it's probably less than you spend going out to eat per month for all of this… Feel free to click the button below to get started and secure your Genius Messenger CRM partnership spot PLUS bonuses before the price goes up!
WHO IS THE GENIUS MESSENGER CRM PARTNERSHIP FOR?
So, who is The Genius Messenger CRM partnership for? Well, if you're currently an agency owner, affiliate marketer, coach, consultant, real estate agent, or use Facebook for growing your business then this partner program might be for you.
And I don't just say this because I'm a charter partner in Genius Messenger CRM… I say this because I have been HEAVY into marketing online, business and software for the last two years. Finding the right offer, tools and training from those who have been there and done that is your BEST SHOT at long term success.
Being able to join the Genius Messenger CRM partnership and take your marketing to the next level no matter where you are in your journey is AMAZING! You'll have a proven, in-demand software asset to leverage and grow your monthly recurring income.
Also, the Genius Messenger CRM partnership is not only for you if you want to personally increase your marketing effectiveness and follow-up and close deals in Messenger… but you want to offer these high value software tools to your followers as a lead magnet, order bump or upsell… and again, in turn, have this INCREASE your Leads, Sales, and PROFITS!
Are you ready to take action and super charge your marketing efforts with the Genius Messenger CRM partnership PLUS unlock these powerful bonuses today? Click the button below to get instant access now:
YOUR GENIUS MESSENGER CRM PARTNERSHIP BONUSES
When it comes to bonuses, you should know that I chose these specifically because they are bound to help you make an even juicier offer for your Genius Messenger CRM subscribers.
Below you will see my personal value-adding Genius Messenger CRM partnership bonuses that will actually provide you with MASSIVE value and level up your experience! Software is king when it comes to bonuses...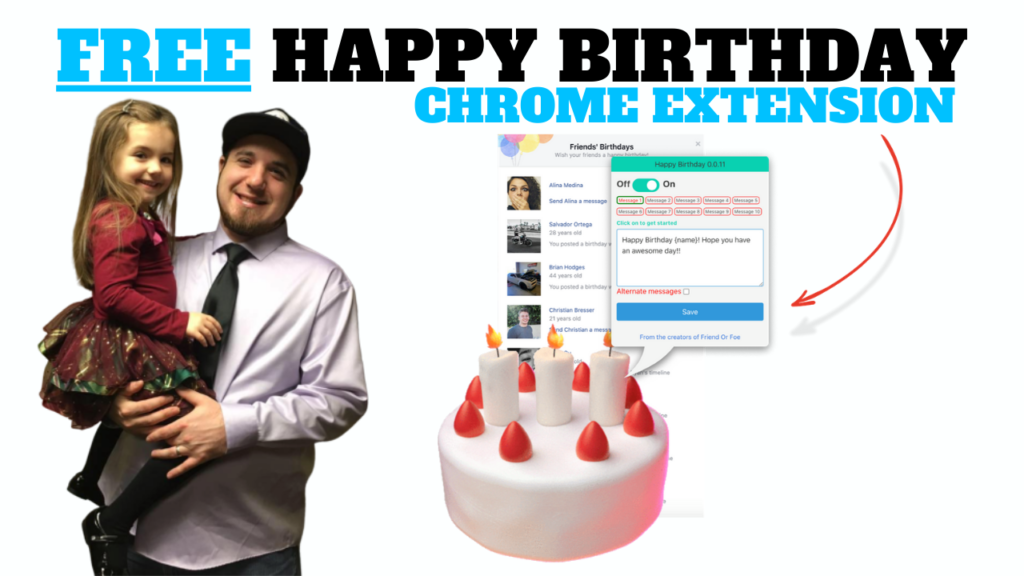 BONUS #1 - HAPPY BIRTHDAY LIFETIME
If you're starting your online business the #1 thing you'll need is traffic to your offers. That's why I want to give you the software and support you NEED to get consistent FREE traffic to your funnels.
People will say that you need to learn to run FB ads to scale, this and that, but it's not true. I know several people making six and seven figures using only organic marketing.
Happy Birthday is a very simple Chrome Extension that you'll have lifetime access to even if you end up deciding you don't want to offer it to anyone else (crazy) that automatically sends birthday messages to your friends and connections on LinkedIn.
This simple tool will increase your engagement and boost your posts to friends and connections on autopilot once it's set up. It only take five minutes to get it installed and running and it will continue to bring you more engagement from then on!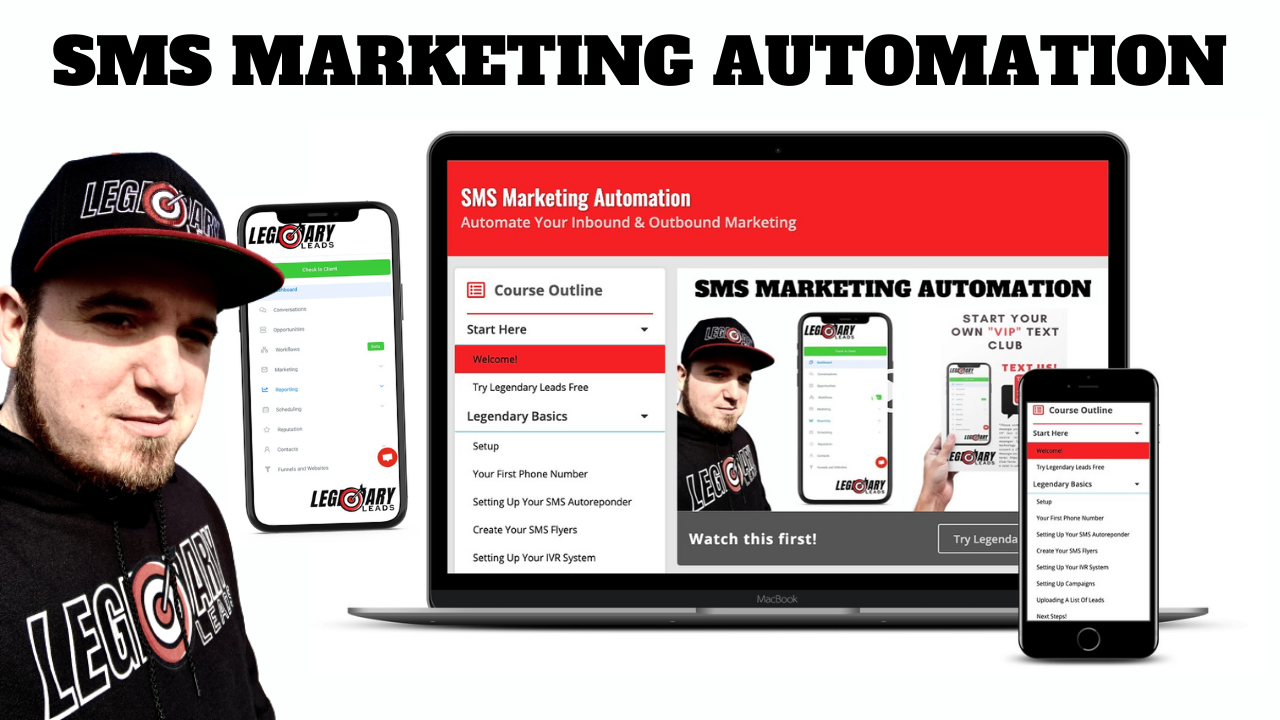 BONUS #2 - LEGENDARY LEADS
If you're planning to grow a REAL business then Legendary Leads is a must have tool for your inbound and outbound marketing.
Legendary automates calls, texts and emails all in one powerful platform. You can create SMS autoresponders, professional IVR systems, voicemail drops, drip campaigns and much more!
Not only am I the founder of Legendary Leads but I am a power user who can help you get it set up to save you time, filter leads, automate follow up and connect to hot leads instantly.
This software is the crown jewel among my SaaS products and sells between $47-$97/mo alone! It's included FREE when you become a Genius Messenger CRM partner today.

These lead magnets will work wonders for beefing up ANY offers you have online. You'll have access to them yourself to use, as well as unlimited reseller rights.
That's why I'm giving you access to these bonuses and additional images to use in your offers. You will easily be able to increase the value of any offer you make by adding this bundle (or individual) bonus stack!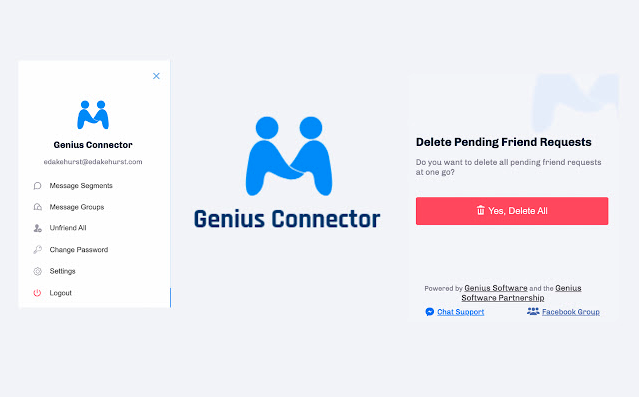 BONUS #4 - GENIUS CONNECTOR
If you're using and promoting Genius Messenger CRM, you definitely want Genius Connector to generate leads for you on autopilot.
Remember what I said about organic marketing with Happy Birthday? Genius Connector is one of the BEST tools available to scale organically.
Genius Connector sends targeted friend requests based on keywords your ideal clients use to self-select themselves on Facebook. It's literally a push button lead gen system!
This powerful tool will increase your efficiency one hundred fold! You can add friends and even send a customized welcome message at scale.
GENIUS MESSENGER CRM PARTNERSHIP PRICING
Now, you may be asking "How much does the Genius Messenger CRM partnership cost?" and if so… it depends on how many reseller accounts you're interested in for this partnership. I say act FAST, because Genius Messenger CRM is always being updated and improved and the price increases when this happens. **P.S: Even if this partnership tripled in price – that is still AMAZING**
I first signed up as a Genius Messenger CRM charter partner when it was still in development. I have worked closely with the dev team in the past, and knew this software would be amazing! It has exceeded all of my expectations.
The funny thing is, I've watched my mentor launch MANY software partnerships over the last two years! He always launches for a low fee and everyone who is quick to take advantage gets an AMAZING deal. Then he raises the price! Even MORE people jump in before the price goes up AGAIN. I started following him so I wouldn't miss out on the best deals.
With that being said, you definitely don't make the same mistake with the Genius Messenger CRM partnership! Take action before the price goes up and get price locked into your access for life, at the lowest price it will EVER BE! Join the partnership below and get instant access!
HOW TO RECEIVE YOUR GMCRM PARTNERSHIP BONUSES
Email Derek@TriJohnson.com with a picture of your receipt (or forward it to me) and I will send you an email with all of the information you need to access your free bonuses. You'll also be in my system when you sign up, and I'll have an automation in place to send your bonuses out once I verify your sign up, but this will be the sure-fire way to get your access ASAP!
Remember, business is a long-term venture. If you're willing to put in the work… this will change your life forever! If that's you, let's go! I love helping motivated action takers... But please don't sign up if you're thinking this is some "magic pill" or "get rich quick scheme." (Those DO NOT exist!)
However, with this partner program, I can give you just a litte bit of the knowledge and software that has taken me over two years to gain and help you fast-track your success. Obviously, I can't guarantee any results… But I can promise you that you won't be disappointed, as long as you follow my advice and take consistent action!
And with that being said, if you're ready to start CRUSHING IT online with the Genius Messenger CRM partnership, CLICK THE BUTTON BELOW TO GET STARTED! (then, send me an email to receive your bonuses)
Are you ready to become a Genius Messenger CRM partner? Click the link above for access! Questions?Comments? Drop them below!