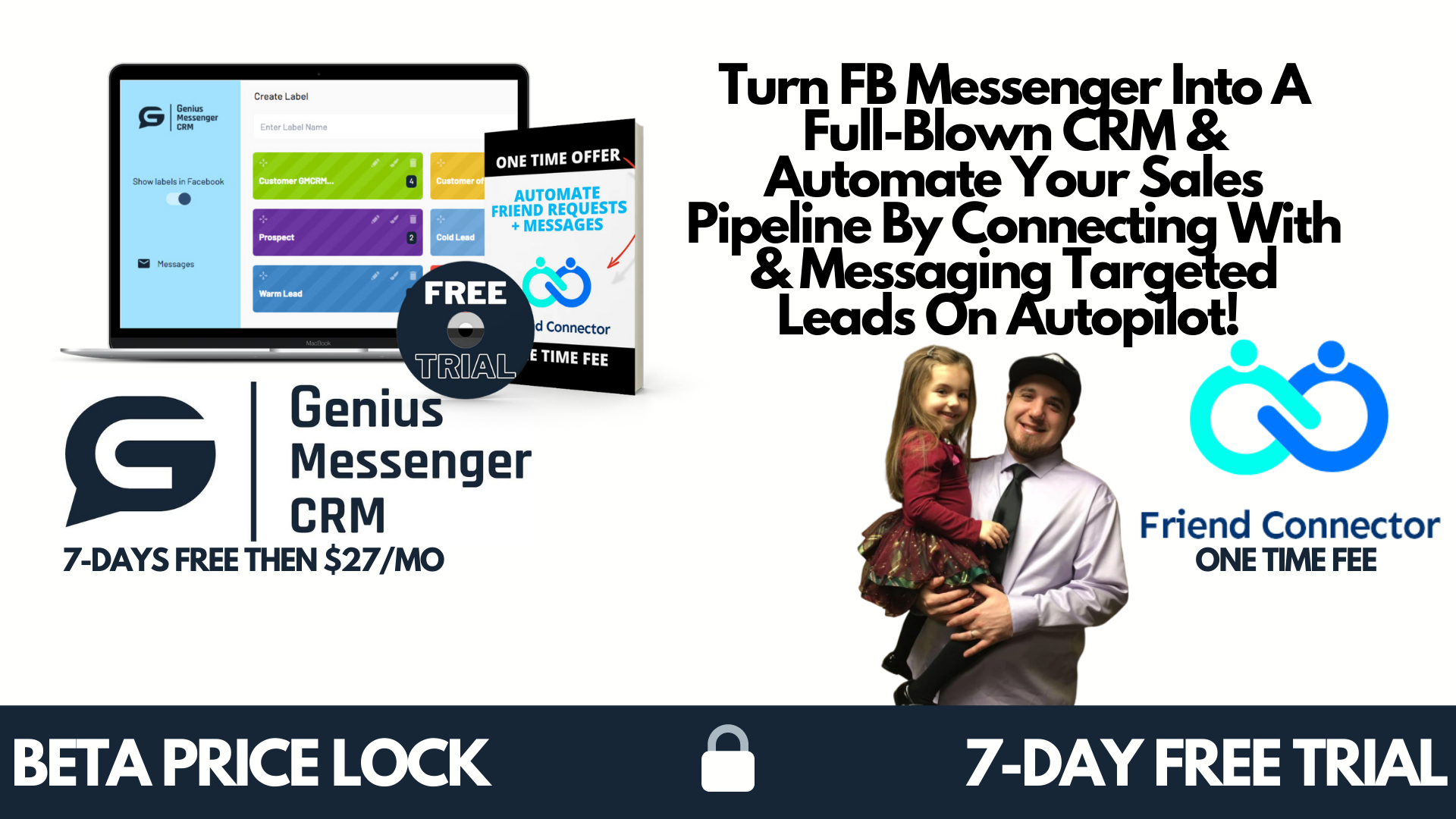 Who Is Genius Messenger CRM For?
Your New Facebook Messenger!
Genius Messenger CRM is a Facebook Messenger Chrome extension. If you use Facebook Messenger for business, prospecting, lead management, collaborating, meetings, clients, or pretty much anything business or team related aside from posting cat videos on your Facebook feed... Genius Messenger CRM is probably for you!
Genius Messenger CRM Key Features
If you've been looking for a way to organize your Facebook Messenger and be more efficient you've found the right tool. We built it to declutter your Messenger and allow you to systemize your follow up!
Here's what you get with Genius Messenger CRM:
Genius Messenger CRM comes with a customizable label system. You can color code your cold leads, warm leads, clients, friends, family, partners, appointments, or whatever other category you create to organize your sales pipeline. These labels are selectable from right inside of your normal Facebook Messenger once the extension is installed!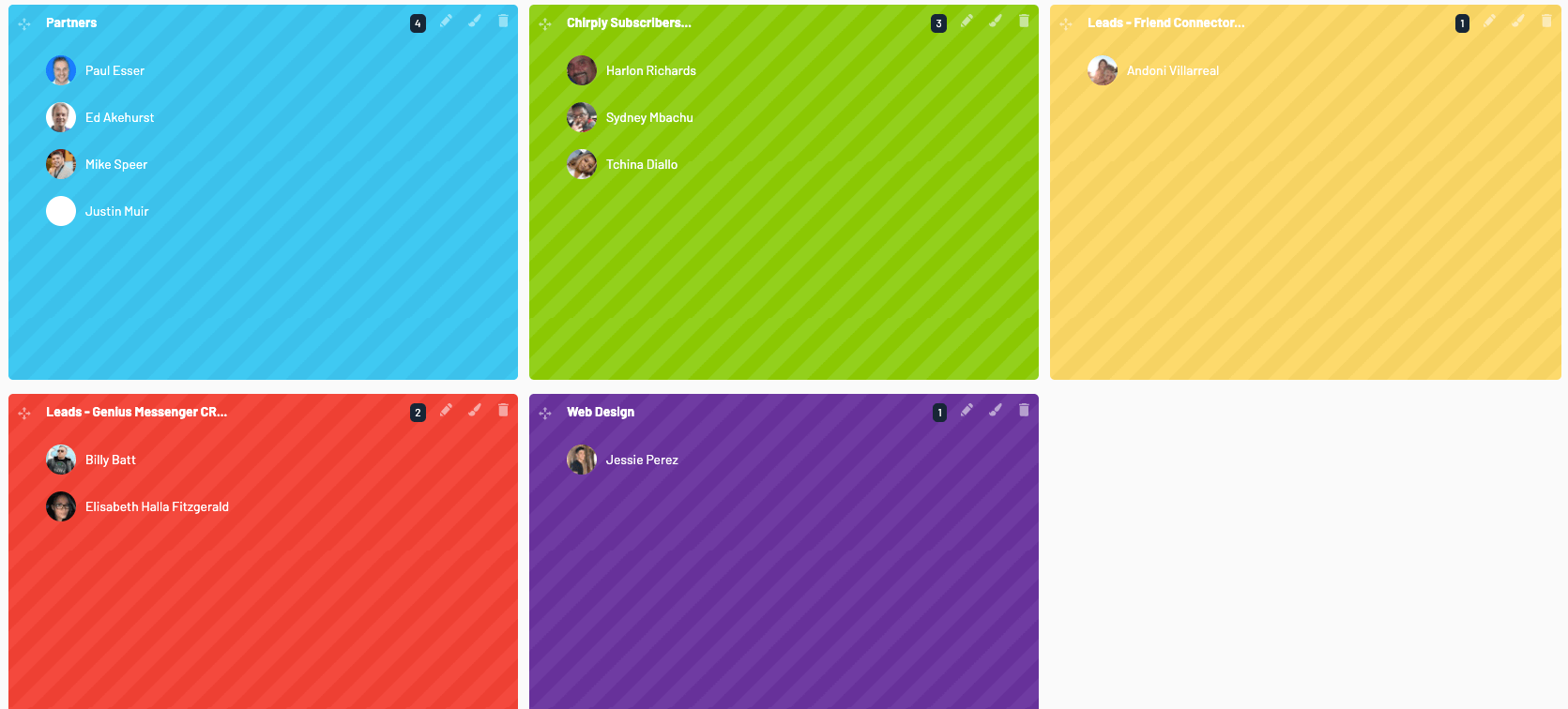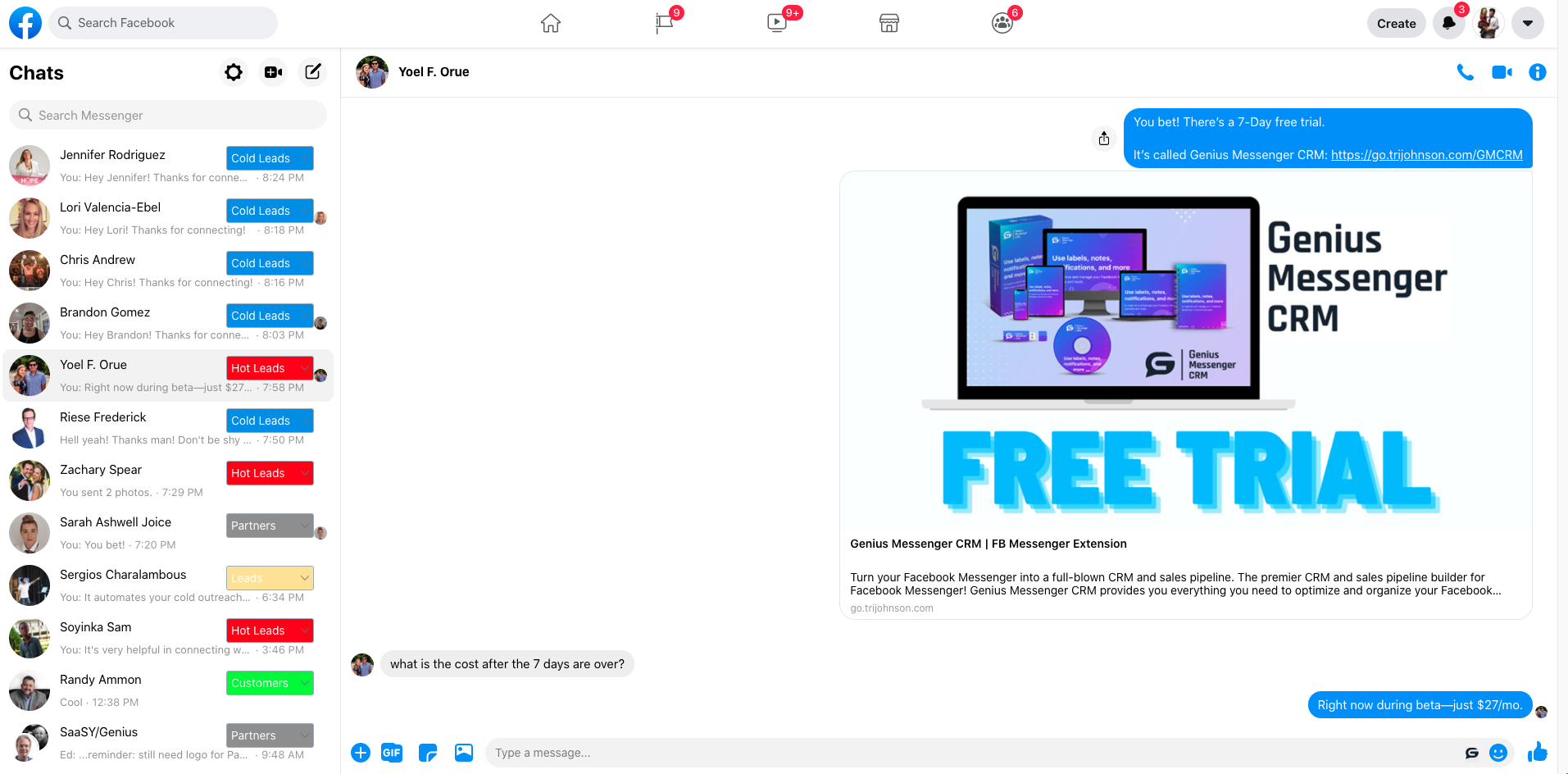 Canned Responses And Global Templates
Genius Messenger CRM includes canned responses, or gloabal templates. These templates are meant to keep your organized, accurate and timely in your follow-up. You can use Genius Messenger CRM to store all of your links, video links, images, product info, sales scripts, reference info, canned messages, and more.
This will allow you to easily create a system using Facebook to generate leads and convert them inside of Facebook Messenger.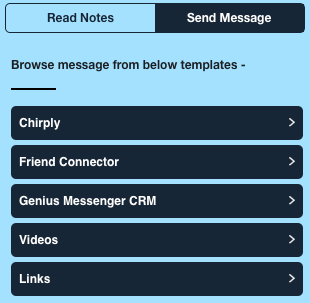 Notes For Individual Facebook Friends
Genius Messenger CRM allows you to quickly create, edit, move and delete notes for each individual Facebook friend or group messenger inside of your Messenger list. This allows you to remember important details and quickly jump right back into the conversation.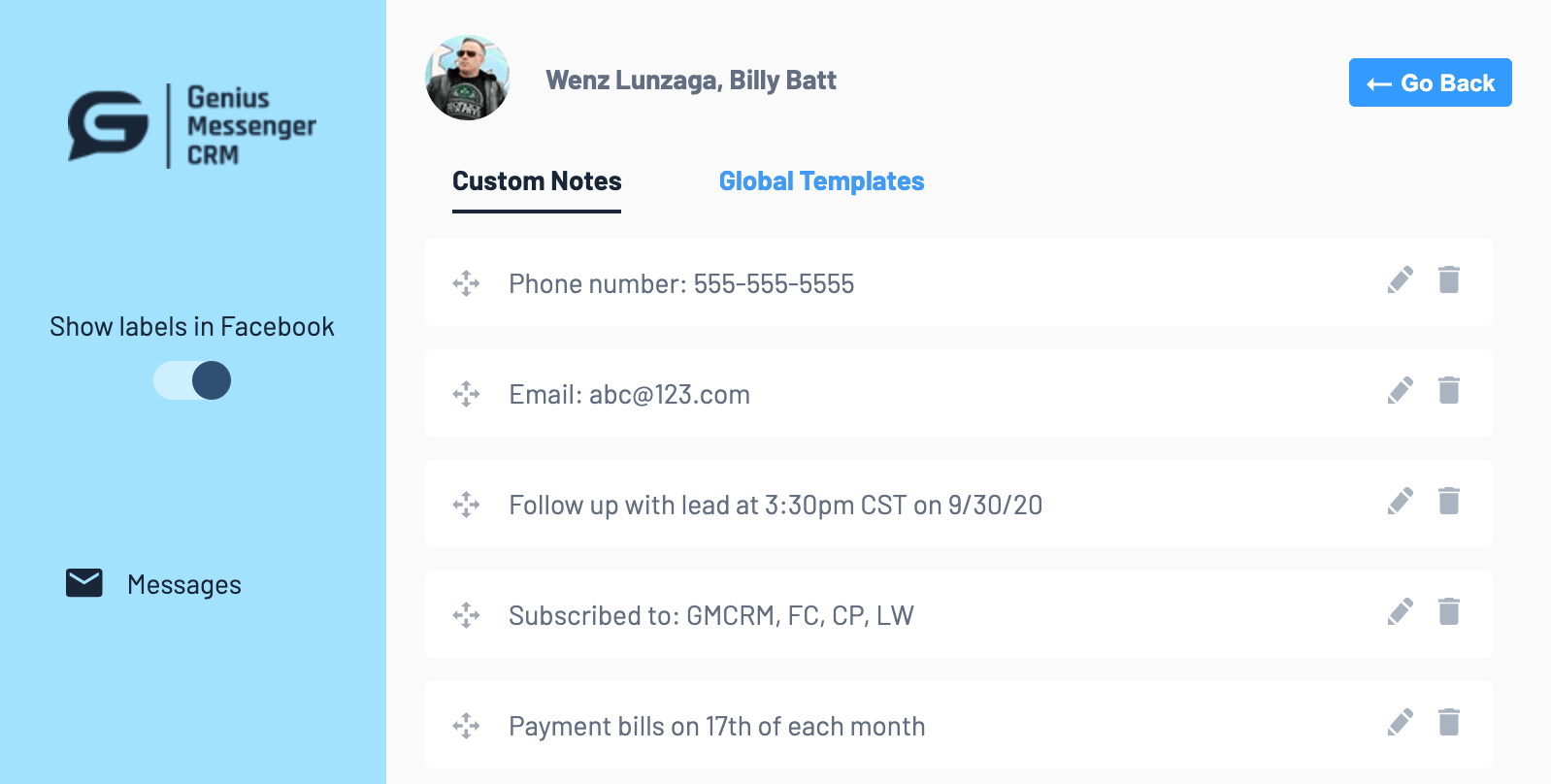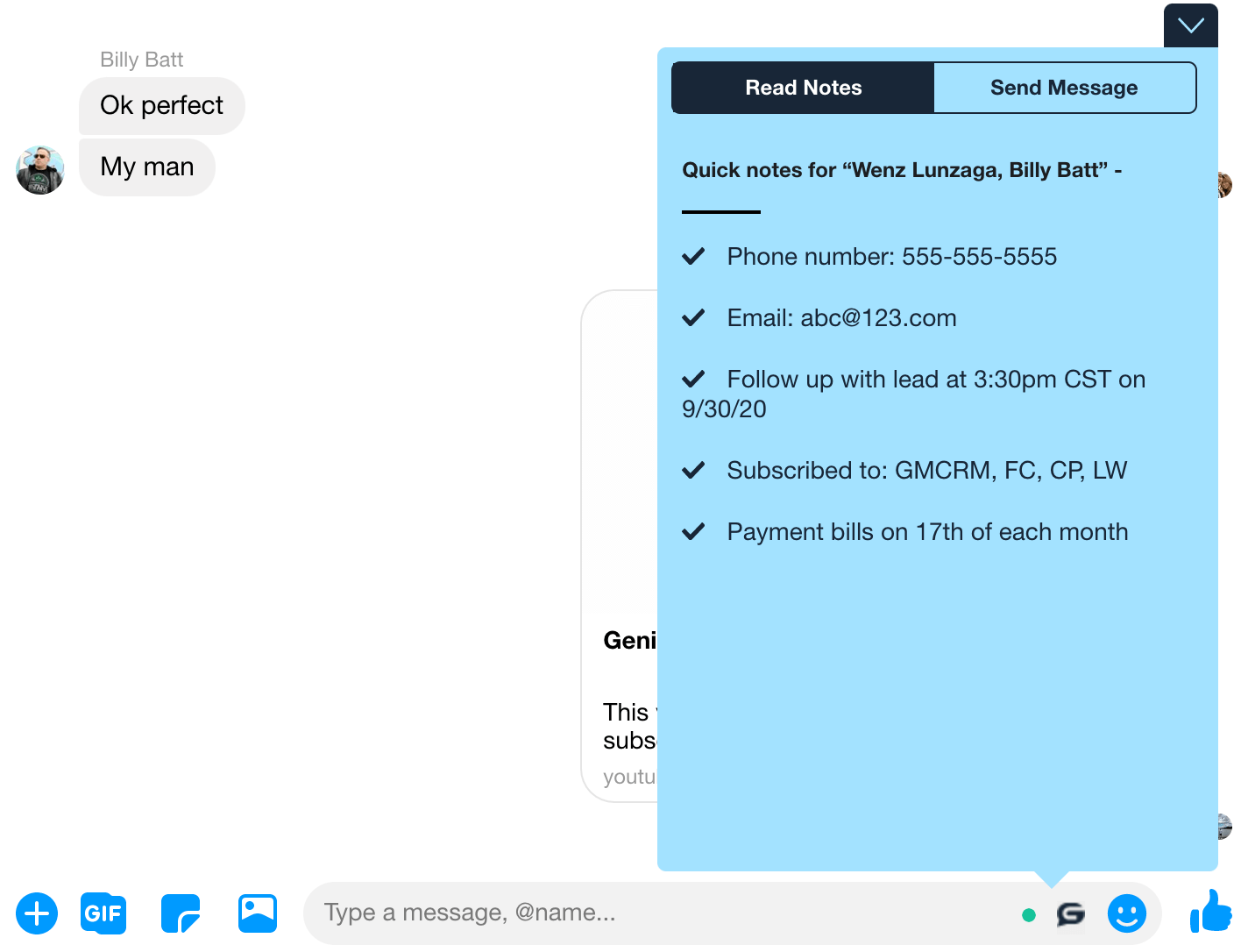 Scheduling Follow-Up Notifications
Genius Messenger CRM also allows you to schedule follow-up notifications so you'll never miss another call, demo and sale. No CRM is complete without a notification feature! We are going to integrate several calendar apps directly with Genius Messenger CRM including iCal, Google Calendar, BLAB, Calendly, 10to8 and more.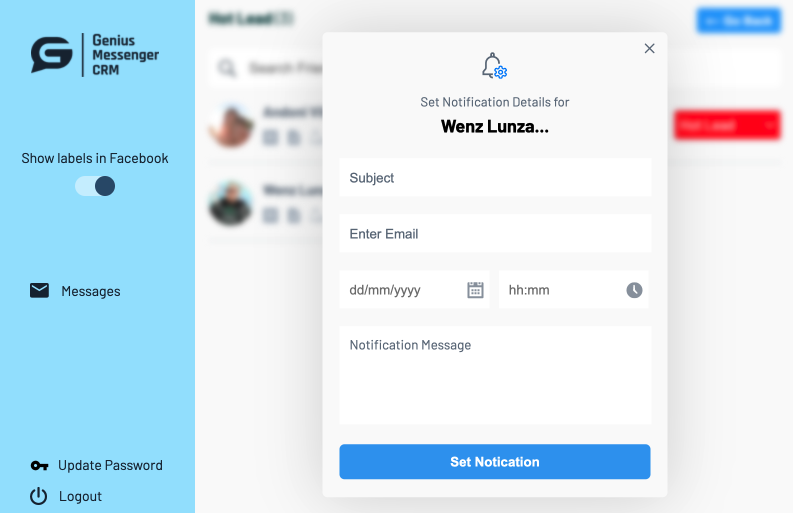 Genius Messenger CRM Demo And 7-Day Free Trial
Want to see Genius Messenger CRM in action? I did a live walkthrough and demo inside of Kim Dang's Chrome Boss community on 9/30/2020.
Watch it below!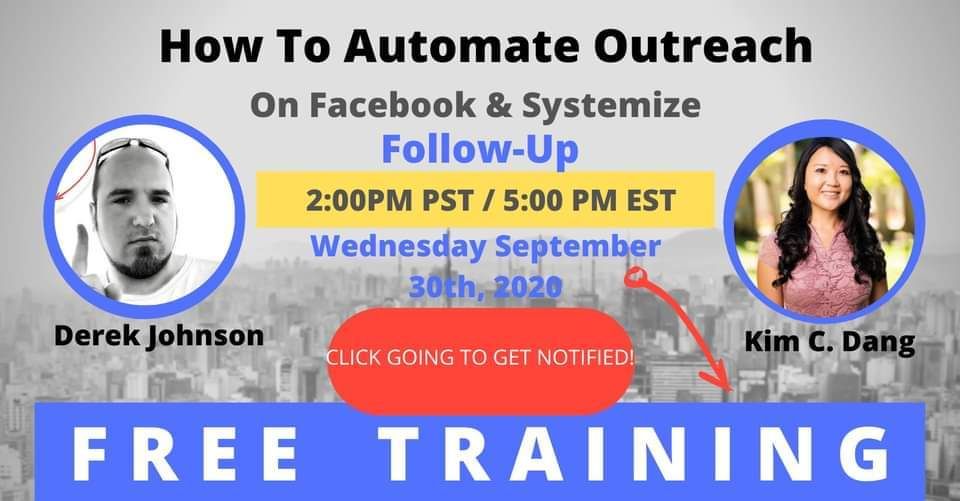 If you'd like a 7-Day free trial of Genius Messenger CRM you can click the button below to sign up for a risk-free trial!
Genius Messenger CRM Reviews And FAQ
Genius Messenger CRM officially launched on August 31, 2020.
Hear from some initial users below:
Genius Messenger CRM Reviews







Genius Messenger CRM Frequently Asked Questions
Genius Messenger CRM is a browser extension and works right inside of Facebook Messenger.
Great question! No, you'll never have to pay for updates even though awesome new features and improvements will be coming! That's the bonus for being a beta user--your price is locked for life!
Genius Messenger CRM works in Chrome, Edge, Brave, and Opera browsers.
We are not currently limiting the number of canned responses or message templates per user. For now, you get unlimited templates!
We just launched Genius Messenger CRM on September 1, 2020. We are in public beta! The extension works great and new features will be coming soon. You can lock in a great price during beta and take advantage of being an early adopter!
Do you have any questions? Concerns? Feature requests?
I'd love to hear from you! Drop your questions or comments below and I'll be sure to respond. Thanks for checking out the Tri-Johnson blog!