CHIRPLY SMS MARKETING AUTOMATION
Create Your Own Chirply SMS Autoresponder & VIP Text Club
Chirply is a software that allows you to automate and scale your inbound and outbound marketing! There are tons of features you can take advantage of like the SMS Autoresponder, Profesional IVR System, Power Dialer, Campaigns and more.
With Chirply you can easily create an SMS Autoresponder or VIP Text Club! This allows you to generate leads and also follow up with your leads via text messsage which gets much better open rates than traditional email marketing and allows you to instantly get your message out to your best customers.
Chirply works on the Twilio platform, and allows you to get direct pricing for text messages, calls and voicemails. You can view Twilio's current pricing here. Twilio is used by many VOIP providers and is an industry powerhouse in the SMS marketing space. Chirply is like the smart phone and Twilio is like the carrier. With these two combined you will have the power of the newest Android or iPhone fully loaded with all of the apps you could dream of for SMS Marketing Automation.
…that's right! Chirply is the only app you need to completely automate your inbound and outbound marketing and is backed by one of the top providers in the space!
Here's a sneak peak at what's inside Chirply: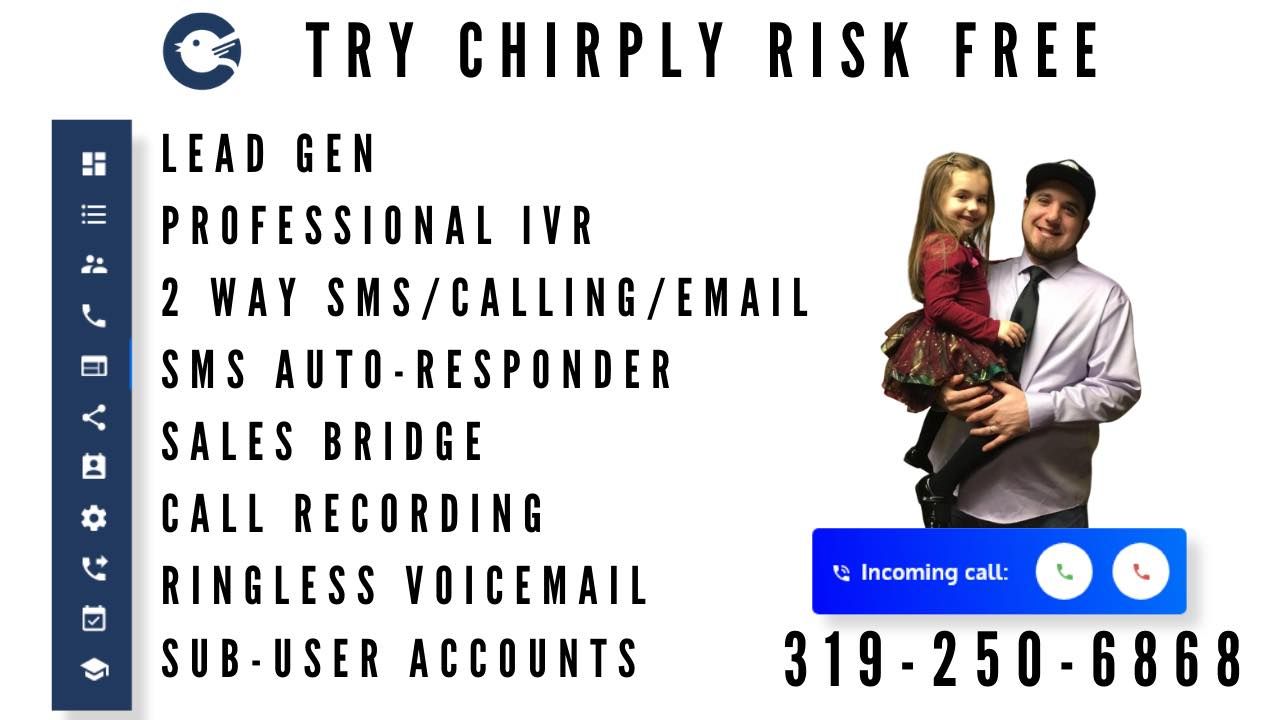 So, who is Chirply for? Well, if you're currently an agency owner, real estate pro, affiliate marketer, coach, consultant, service business owner or would benefit from automated lead generation and follow up in your business then Chirply is probably right for you.
And I don't just say this because I'm a partner in Chirply… I say this because I am a power user of the software and know what it can do to help free up your time and turn more leads into deals for you. It just keeps getting better!
Being able to use Chirply and quickly send out a text message to my list or queue up a list of leads to call with the browser dialer put me in total control of my sales process. The professional IVR system even allows me to generate leads and pre-qualify them before I even get on the phone!
Also, Chirply is not only for you if you want to personally increase your marketing effectiveness and automate your sales process… but you want to effectively implement SMS Marketing in your business and always be one text message away from your best customers… and again, in turn, have this INCREASE your Lead Generation, Sales, and PROFITS!
Are you ready to take action and super charge your marketing efforts with Chirply PLUS secure FREE SMS Marketing Automation Course Today? Click the button below to get instant access now:
WHAT FEATURES CAN YOU USE IN CHIRPLY?
Chirply currently has several powerful marketing automation features you can use with even more powerful tools on the roadmap.
Here are the current features you can utilize with Chirply:
- 2 Way Calls, Text Messages and Emails
- SMS Autoresponders
- Ringless Voicemail Drops (Beta)
- Professional IVR Systems
- Local or Toll Free Phone Numbers
- Call Recording
- Sub User Accounts
- Sales Pipelines (Beta)
- Sales Bridge Messages
- Zapier Integration
Each of these features are used for a different purpose and are designed to increase conversions and revenue! I talk about some of these features and when to use them in the FREE SMS Marketing Automation Course.
If you want to leverage this software in your business to automate your inbound marketing and turn more leads into sales on autopilot, make sure you take advantage of this 7-day free trial!
Do you think Chirply might be a useful tool for your business? What other features would you love to see inside of Chirply? Let us know in the comments below!