The Tier 5 Partnership Review
Become A Software CEO Without Any Coding Or Developer Knowledge
WHAT IS The Tier 5 PARTNERSHIP?
The Tier 5 Partnership allows you to fund several software products with partnership fees and gives you access to agency licenses for those software which you can resell to end users and keep 100% of the revenue.
As a software partner or reseller you get total control over your sales process. Unlike in affiliate marketing where you are given certain products and offers to promote to earn 30-40% commissions and have no control over the cart, in the Tier 5 Partnership you can create unique offers like using certain software products as a lead magnet (giveaway) and combining multiple software into a bundle offer.
If you're interested in learning more about the software-as-a-service space or becoming a Junior Partner in the Tier 5 Partnership then be sure to click the blue button below and sign up for a call!
…that's right! You can leverage the same software partnership and network that helped me create a digital marketing business from scratch with no prior experience!
Here's a sneak peak at what's inside the Tier 5 Partner Program:
WHO IS THE TIER 5 PARTNERSHIP FOR?
So, who is the Tier 5 Partnership for? Well, if you're currently an agency owner, affiliate marketer, coach, consultant, service business owner or would benefit from an additional revenue stream as well as software assets to automate your own business then the Tier 5 Partnership might be right for you.
And I don't just say this because I'm a partner… I say this because I am a power user of the software and know what it can do to help free up your time and turn more leads into deals for you. As a reseller you can also create passive income opportunities by signing up agency users. It just keeps getting better!
Being able to use the software in this partnership to generate a fresh list of leads anytime puts you in total control of your sales process. The training, support and networking opportunities are amazing as well!
Also, the Tier 5 Partnership is not only for you if you want to be a reseller, but even if you just want to actually leverage Tier 5's enterprise level software to automate your business from lead generation to sales… and again, in turn, have this INCREASE your Leads, Sales, and PROFITS!
Are you ready to take action and super charge your marketing efforts with the Tier 5 Partnership Today? Click the button below to get instant access now:
WHAT TOOLS CAN YOU USE IN THE TIER 5 PARTNERSHIP?
The Tier 5 Partnership currently has several powerful marketing software you can use with even more powerful tools and upgrades on the roadmap.
Here are the current software you can utilize with the partner program:
- Biggest Fan (Automatically Leave Reactions On People's Live Videos)
- Chirply (SMS Autoresponders, Professional IVRs, RVMs, 2 Way SMS, Calls, Emails)
- InvoicingYou (Easily Get Paid From Anywhere For Your Products Or Services)
- RoboContact (Automatically Submit Contact Us Forms On Targeted Sites)
- Domain Leads (Pull Unlimited Wed Domain Leads Based On Keywords You Pick)
- Birthday Wisher (Automatically Wish Your Friends "Happy Birthday" On Facebook)
- Post Filter (Filter For Ads Only, Posts Only Or Both Based On Keywords On Facebook)
- Magic Zap (Creates Dynamic Webpages Based On User Data To Increase Conversions)
- Genius Pages (Create Websites, Sales Funnels, Upsells, Downsells & More)
- Sticky Reviews (Easily Get & Publish Reviews On Your Site With Social Proof Popups)
- Link Wizard (Create Short Links, File Links, Social Links, Add Facebook Pixels And More)
- Unlimited Business Leads (Scrape Real Data From Google Maps And Send It Anywhere)
- Winner Winner Chicken Dinner (Run Giveaway Contests On Social Platforms)
- Your Chrome Extension (Create Your Own Chrome Extension To Give Your Clients)
- Friend Connector (Automatically Send Friend Requests And Messages On Facebook)
- Clickfunnels Easy Page Cloner (Instantly Clone Any Page Built In ClickFunnels)
- Groove Cloner (Instantly Clone Any Page Built In Groove Funnels)
- Post Scheduler (Schedule Posts Based On Type To Your Personal Facebook Profile)
- Tweeter AI (Automatically Post AI Generated Tweets To Your Twitter Feed)
- Post Profits (Automatically Reply To Comment Ladders Posts On Facebook)
- Friend Disconnector (Track Engagement And Easily Remove Inactive Friends On Facebook)
- Kyubi (Chrome Extension User Management Software - Easily Add, Suspend, Delete Users)
- Custom Domain Creator (Easily Create Custom Domains Without Cloudflare Issues)
- MeFn Evan (Facebook Chatbot For Your Personal Profile)
- Engagement Monster (Automatically Engage With Users On Your Facebook Feed)
- Grammy Wammy (Boost Engagement And Automate Tasks On Instagram)
Each of these software are used for a different purpose and are designed to increase conversions and revenue! I talk about some of these tools and when to use them on my YouTube Channel, so make sure to check it out.
If you want to leverage this software in your business to automate your inbound marketing and turn more leads into sales on autopilot, make sure you take advantage of the Tier 5 partnership offer! (Who knows when it might be shut down or increase in price--it's an insane value!)
THE TIER 5 PARTNERSHIP PRICING
So, are you convinced the Tier 5 Partnership sounds amazing? Well, you're right. It is amazing! But I bet you're wondering "what is the Tier 5 Partnership going to cost?" ...and if so it starts at just $97/mo (CURRENTLY) to join as a Jr. Partner. I say currently, because this plan is going to increase soon and it has been as much as $297/mo before to join. **P.S: Even if the cost tripled – that is still AMAZING**
You've probably seen this play out with plenty of different opportunities… The first chance to get in doesn't even have a ton of features right away, but they price lock everyone to the plan they get for a much smaller price. I do this with my own subscribers!
The funny thing is, a lot of people who got in at the smaller price before with even less software tools to resell… ended up cancelling their account! Then, like many others who would come to regret their decision, ended up getting back into the Tier 5 Partnership when the price was over $200 more per month!
With that being said, you definitely don't make the same mistake with The Tier 5 Partnership! Take action before the price goes up AGAIN and get price locked into the current pricing plan, at the lowest price it will EVER BE! Join the partnership below and get instant access:

THE BEST TIER 5 PARTNERSHIP BONUSES (SOFTWARE AND SUPPORT)
When it comes to bonuses, you should know that I chose these specifically because they are bound to help you succeed in the Tier 5 Partnership.
Below you will see my personal value-adding Tier 5 Partnership bonuses that will actually provide you with MASSIVE value and level up your experience! Software and support is king when it comes to bonuses...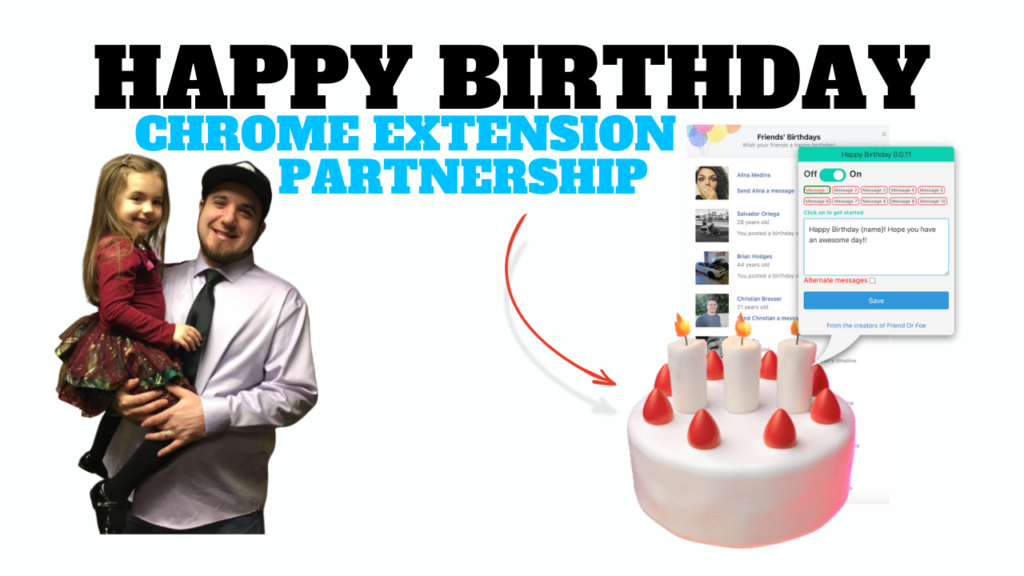 BONUS #1 - HAPPY BIRTHDAY PARTNERSHIP
If you're starting as a software partner the #1 thing you'll need is traffic to your offers. That's why I want to give you the software and support you NEED to get consistent FREE traffic to your funnels.
People will say that you need to learn to run FB ads to scale, this and that, but it's not true. I know several people making six and seven figures using only organic marketing.
Happy Birthday is a very simple Chrome Extension that you'll have lifetime access to even if you end up deciding the Tier 5 Partnership isn't for you (crazy) that automatically sends birthday messages to your friends and connections on Facebook and LinkedIn.
Not only will this simple tool increase your engagement and boost your posts to friends and connections on autopilot once it's set up, but you'll be able to give away or sell unlimited copies of this high-value simple software. It only takes five minutes to get it installed and running and it will continue to bring you more engagement from then on!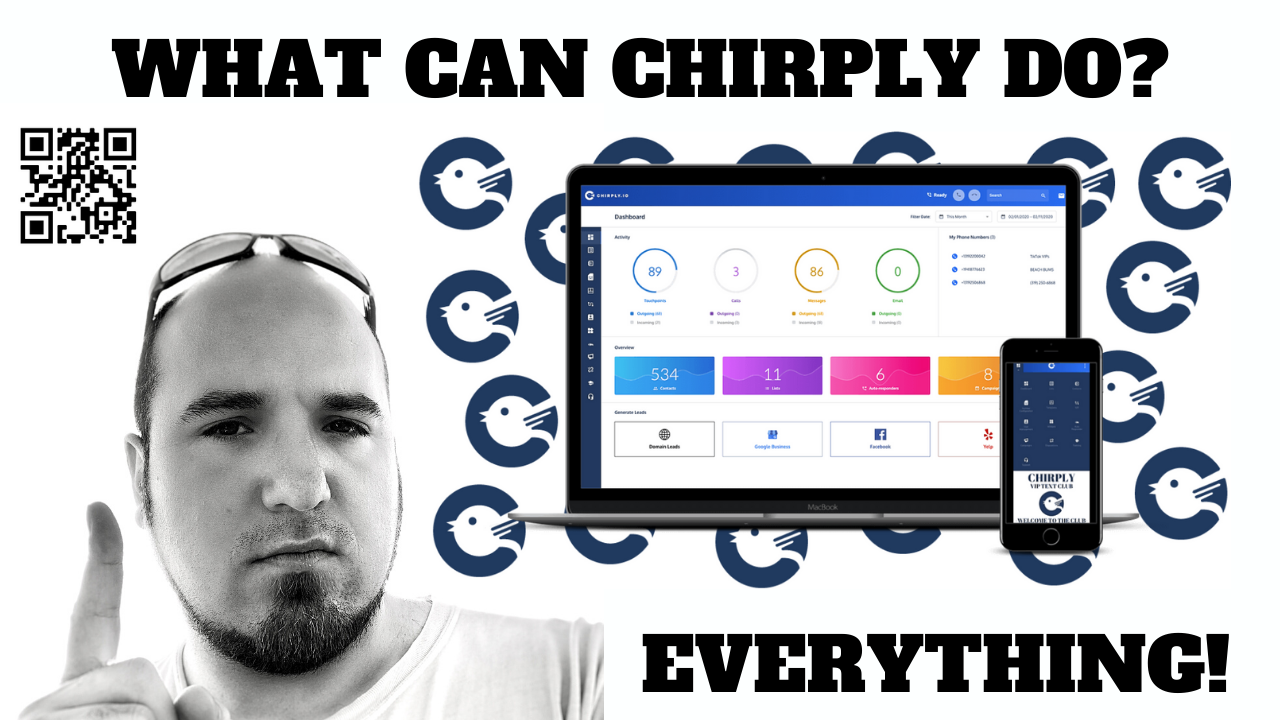 BONUS #2 - CHIRPLY SET UP
Everyone is going to tell you that list building is the #1 most important thing to start doing in your business. This is 100% true! Your list will become your greatest asset over time.
What people fail to tell you is there are many lists you can build aside from email. SMS marketing is growing like crazy and text message open rates are as high as 98% and opened within 3 minutes.
Chirply is an advanced inbound and outbound marketing automation software. You can send and receive text messages, calls, emails and more right from your browser. You can automate your marketing accross these channels with campaigns!
This software allowed me to grow my company on Facebook from $0 to over $4,000/mo in monthly recurring revenue. It is the premier software product of the Tier 5 Partnership that I happen to be an expert in and will be a conrnerstone in your marketing strategy. When you sign up for the Tier 5 Partnership through the link below I will personally help you set up your Chirply account for success.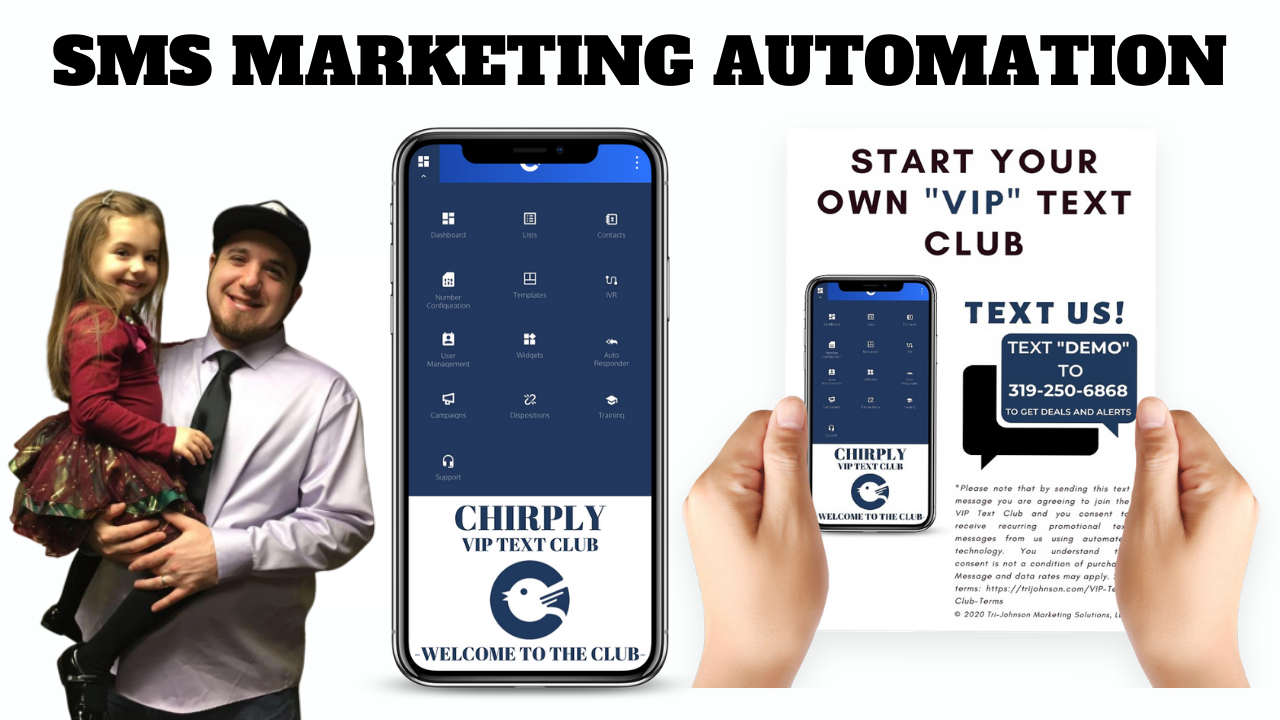 BONUS #3 - TRAINING & SUPPORT
Having support is truly the most important thing. Having the right tools is crucial as well of course. But without the knowledge to use them, you have nothing.
That's why I want to help you start your business the RIGHT way! Obviously this isn't my paid coaching program, but I promise that I will provide more value than some paid programs out there.
**However, if you want to work with me more closely, send me an email here and we can see if we're a good fit**
And because you'll have the same software that I use in my business to generate leads and sales on auto-pilot, every single day, I figured it would be helpful to give you my training courses to set these up as well!
I will be giving you access to the Facebook Organic Marketing Automation & SMS Marketing Automation courses. Also, you will have my email, Chirply number, and private FB group where you can ask me ANYTHING. I'm also going to give you a super valuable ONE HOUR call with me!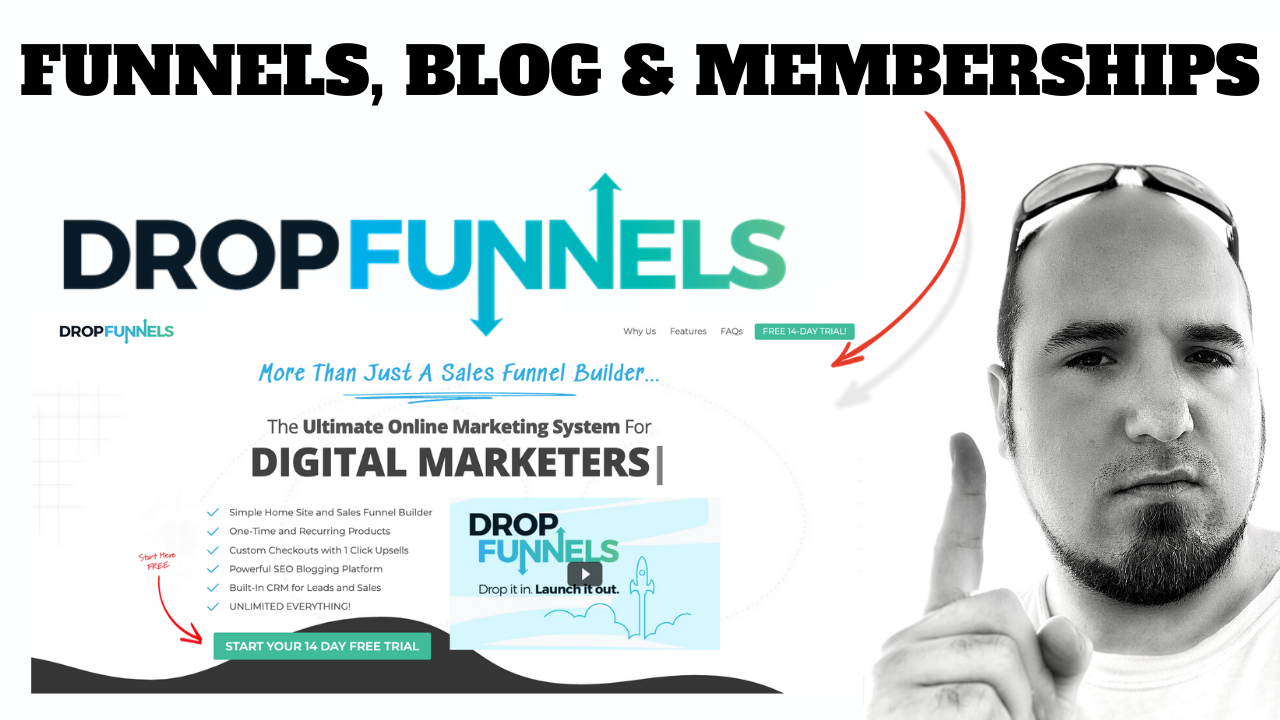 BONUS #4 - PRIVATE COMMUNITY
This bonus is probably one of the most important bonuses. Having a strong community to bounce ideas off of is so important!
The DropFunnels community is one of the strongest around! Not only can you access the DropFunnels Private FB Community… (6,000+ and growing fast)
…but you also get access to MY personal DropFunnels FB community with the training, coaching and support you need to succeed. We'll be helping each other succeed and sharing our wins in real time!
Eventually, I plan to create DropFunnels software funnels for each software as well, which you'll get for FREE (once  created) if you sign up for DF through my link and use it in your business.
However, there is already plenty of value just being in my private community, right NOW… for FREE!
Just click the button below to get instant access to the Tier 5 Partnership before the price goes up!
HOW TO RECEIVE YOUR TIER 5 PARTNERSHIP BONUSES
Email [email protected] with a picture of your receipt (or forward it to me) and I will send you an email with all of the information you need to access your free bonuses. You'll also be in my system when you sign up, and I'll have an automation in place to send your bonuses out once I verify your sign up, but this will be the sure-fire way to get your access ASAP!
Remember, business is a long-term venture. If you're willing to put in the work… this will change your life forever! If that's you, let's go! I love helping motivated action takers... But please don't purchase this if you're thinking this is some "magic pill" or "get rich quick scheme." (Those DO NOT exist!)
However, with my support, I can give you the knowledge and software that has taken me over two years to gain and will help you fast-track your success. Obviously, I can't guarantee any results… But I can promise you that you won't be lost and struggling, as long as you follow my advice and take consistent action!
And with that being said, if you're ready to start CRUSHING IT online with the #1 software partnership around, CLICK THE BUTTON BELOW TO GET INSTANT ACCESS! (then, send me an email to receive your bonuses)