FOLLOW MY SIMPLE, STEP-BY-STEP PLAN FOR EARNING AN EXTRA $1,000-$2,000 PER MONTH AS A SOFTWARE RESELLER AND AFFILIATE... SO YOU CAN PAY OFF YOUR DEBT, SAVE SOME EXTRA MONEY, AND DO THE THINGS YOU LOVE.
You don't need any prior experience... you only need 2-3 hours a week… and all you need are a few SOFTWARE tools. If you're ready to finally get control of your financial situation and set yourself up for a better life, then keep reading...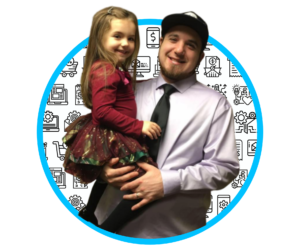 Dear Friend,
If you'd like to learn how you can start your very own side hustle in the next 28 days… so you can start earning extra cash to pay off your debt, invest for your future, or just so you have enough money at the end of the month to enjoy with your loved ones… then this is going to be the most important message you've ever read.
Hi, my name is Derek Johnson. You might know me as the founder of The Freedom Factory, where I teach others about software, automation and entrepreneurship.
In 2020 I took a leap of faith.
I decided to quit my job as a corporate accountant to pour all of my energy and focus into building up my marketing company.
At the time, I had a pretty decent list of subscribers who were using the software I offer to automate and scale their businesses...
I knew that being an accountant wasn't my passion… and building up my software and marketing company so it could help people all around the world was… so I took a big leap of faith and left what most people would consider to be a "good" job.
Now, in retrospect, this might not have been the safest decision I've ever made.
Especially because when I handed in my resignation letter, I was only making around $2,500 per month.
Crazy, right?
It didn't matter though.
I needed that extra time, attention and energy that would come from leaving my job if I was going to be able to build my business up.
But... at the same time… I needed to pay my mortgage and put food on the table.
THAT WAS THE POWER OF MY SOFTWARE "SIDE HUSTLE."
Every day, I was working for 8-10 hours as a corporate accountant… and then I'd spend an extra hour or two creating content for software I was selling to help small businesses and entrepreneurs save time and make more money.
How did this new side hustle work out?
Well… my family didn't starve to death!
In fact, I was able to quickly replace the income I gave up when I left my accounting job with my new side hustle. Within a few months of leaving my 9-5, I was actually making MORE with my side hustle then I did when I was working full-time for the fortune 500 company I was at.
This side hustle is what gave me the ability to bet on myself and win.
It was very profitable, very fast.
And the cool thing was, it was not hard at all to set up.
Did it take a bit of figuring out? Of course. But remember… I was an accountant before I started my side hustle.
I had zero experience or training in digital marketing or software before I started.
So if I can figure it out, you can too...
HERE'S WHAT THE SOFTWARE SIDE HUSTLE IS ALL ABOUT
There are a LOT of digital marketing services you could provide for local businesses.
They all can make you money. And not all of them require a ton of time.
But out of all the options out there, the most attractive I see right now is software-as-a-service.
Basically, businesses owners need software to run their business. Software saves them time by organizing, automating and systemizing their processes.
Selling software to business owners really isn't that difficult. It's something you could figure out in a couple of days time. And it's a super effective way to drive more productivity and sales for any kind of business, which makes it a very profitable side hustle for the small amount of time you'd be investing.
With just 20 software subscribers you can make an additional $1,000-$2,000 per month, and you don't need any previous marketing experience to get started.
This side hustle only takes a few hours each week. After you onboard a client, which can be automated with training videos and email automation, the subscriptions essentially run on autopilot from then on.
HERE'S WHY THIS SIDE HUSTLE IS SO "SCALABLE"
The biggest problems every business owner have are that they never have enough customers or time.
In an ideal world, a business owner would love to just be able to cut a check, pay someone… and have customers magically "show up" in their store, at office or to their website.
That would be a perfect situation for them.
That's why I love to set these business owners up with software.
Software can solve the biggest problems for a business owner by bringing in new customers without taking up their time.
(And I'm living proof that software really can work for any kind of business. After I learned how to set up a few marketing software products, I used them to create my first $2,500/mo in passive income organically on Facebook.)
That's part of the reason why this is so exciting...
In the past, business owners would have to spend thousands of dollars in ads… and might never see an ROI for that money. Plus, it would take weeks for them to see a tangible result… or to even see if the ad worked.
It was a big waste of time and money, running ads with no experience.
But with Software, a business owner can start bringing in leads with a small budget and start seeing immediate results - that same day, usually within a few hours.
This is why, the global business software and services market size was valued over $322.91 billion in 2018. And that number is expected to grow at 10.7% through 2025.
But even though you can get incredible results using software as a business owner, the software company doesn't have any additional THROUGHPUT when they sign up a new customer.
That means there is little involvement required on behalf of the software company to deliver tangible results for their clients at scale. My software subscriptions bring in as much in 2-3 hours per day as I earned working full-time in my corporate accounting gig.
BUT WHY WOULD A BUSINESS PAY ME FOR SOFTWARE? DON'T THEY ALREADY HAVE IT?
Most business owners are really good at what they do.
If they own a pizza shop, they're probably really good at making pizzas.
If they own a Chiropractic Office, the owner is probably very good at adjusting people's backs.
If they own a roofing company, they're probably really good at replacing shingles.
But no matter what kind of business they run… the one thing they're NOT good at is lead generation and bringing in new customers.
It's a completely different skillset.
And while it probably wouldn't take too much time for the business owner to learn, they have a million other things going on.
Business owners are constantly dealing with the problems that arise every single day. They're always getting pulled in a million different directions. They're constantly looking to put out fires and solve problems… or find people who can solve these problems for them.
They have enough on their plate. Enough tasks on their "to-do" lists.
The last thing they want to do is take the time out of their busy schedule to look for a software solution they don't even know exists.
They'd much rather have someone like you come in, get them set up, and just deliver them results on a silver platter.
Think about it from their perspective:
They get a boatload of new customers, more business, and a huge influx of cash flow that they didn't have to work any harder for… and all they had to do was pay you a small fee to make this all happen.
You're basically building them a pipeline that can bring them new customers day-after-day for as long as they'd like.
It's a win-win solution.
And while I'm sure you understand why this makes so much sense from a business owner's perspective, you might be wondering...
WOULD PEOPLE REALLY PAY ME $50-$500/MONTH FOR A USERNAME AND PASSWORD?
Let's do some quick and easy math:
Let's say you're the business owner. And let's say you own a warehouse gym.
Let's also say you charge a customer $200/month for their membership (which is probably pretty cheap compared to some of these high priced crossfit gyms and personal training studios out there.) And for the sake of this exercise let's say that an average customer stays with you for 8 months.
Now:
You know that every customer that comes into your business is worth (on average) $1,600.
If someone told you that they could set you up with an automated Facebook lead generation system that could bring you between 10-20 new customers every single month… how much would that be worth to you?
If you got just 10 clients a month with this method, that would be an extra $16,000 in new business.
Would you give someone $50-$500 if you knew you would make $16,000 or more, every single month?
I don't know about you, but if someone told me that every month I could hand them $500 and I'd get $16,000 in return… then I'd take that deal in a heartbeat.
That definitely sounds like a fair trade to me.
BUT HERE'S WHERE IT GETS REALLY EXCITING:
Some businesses have a very high customer value.
Think about a local bathroom remodeling company.
Every new client they land could be worth between $8,000-$15,000.
How many new clients would you have to get that business for your $500/month fee to be worth it for them?
Imagine the software you set up for them brought in four new clients in the next month. That'd be an extra $32,000-$60,000 worth of new business… and they only had to give you $500 to make that happen.
That's why our lead generation software is so popular.
And that's why so many people who start this side hustle are able to start earning money so quickly.
Business owners want to pay money to acquire new customers. And if you set them up with a consistent, predictable way to get new business, they'll become happy clients of yours for a very long time.
THIS SOUNDS REALLY HARD… I'M NOT SURE I'LL BE ABLE TO DO THIS
That's exactly what I thought when I was just starting out.
But luckily for you, I'm going to give you a step-by-step plan for making this happen.
Now, you should know… I didn't create this side hustle out of thin air. A lot of people did this before I ever started. And one of those people is a crazy monkey owner named Jon Vaughn.
Jon is a regular guy who actually has a pretty similar story.
We both started out with "good", safe jobs most people stick with until retirement.
And we both left them to pursue freedom and software was the platform that allowed us to do it.
But the reason I'm telling you about Jon is because he is a "free thinker" and helped me get free from my job with my software side hustle.
You see, Jon quickly realized, just like I did, that those "good", safe jobs were really just a sentence of 30 years of doing work for someone else.
And while he initially took a "good", safe job as an engineer… he knew it was going to be hard to break out of that cycle without doing something on the side.
So... Jon started a business to bring in some extra cash while he was still working as an egineer.
At first, he was doing alright… making decent money. He was leveraging engineering resources in India to land high paying US clients and outsourcing the work.
But then… he decided to switch his side-hustle from a service based company to a product based company.
As soon as he did this, he started making sales like crazy for his software that he built for his internal purposes. Software built by the engineers he hired to work for his company.
Instead of selling engineering services and building software for clients, he was now building software for his company and selling that software to end users...
Then came his BIG IDEA. Other people would probably love this "side hustle" as well.
So he started a partner program. Instead of building software for other companies to use... he now built software for his company to use and sell... and opened up a software partnership so that other people could also use and sell the software.
As soon as Jon opened his partner program (giving access to the same software he used to grow his own software business)... he started getting a flood of new customers.
Jon quickly realized he had to make a pivot.
And while running his outsourced engineering business model was giving him some decent income... it would be much more profitable to just shift all his focus on creating new software products and bringing on additional partners to fund the growth.
So, he too took a leap of faith, and shut down his outsourcing business to pour all of his time, attention, focus and energy into building up his Software Side Hustle.
TODAY, AT THE TIME OF THIS WRITING... JON IS MAKING OVER $50,000/MONTH PROVIDING SOFTWARE FOR BUSINESSES…
… AND THE BEST PART IS, HE GETS TO DO IT WHILE WORKING FROM ANYWHERE.
Even though he's already earning so much, he could make even more if he really wanted to.
Jon, like you, didn't know he'd ever be making enough money to be classified as a top 1% earner in the entire U.S.
He didn't think he'd ever be able to earn this much money every month at such a young age... and also be able to work from anywhere in the World with an internet connection.
But this all happened because he took the time to figure out how this Software Side Hustle thing worked.
Now… you probably have no idea how you can make this work.
And maybe you don't want to go "all-in" and work like crazy learning how to do this.
Maybe you even like your current job and want to keep doing it… but you just want to make an extra grand or two on the side to invest for your retirement, pay off some debt, or take the family on a nice vacation.
Maybe you just want to learn how you can do this to in your spare time so you have a little more breathing room at the end of each month.
Maybe you are hell-bent on making this happen and just don't know where to get started...
That's OK.
Because there's good news...
JON AND I TEAMED UP TO CREATE A STEP-BY-STEP COURSE THAT REVEALS EXACTLY HOW ANYONE CAN START THEIR VERY OWN SIDE HUSTLE…
AND START EARNING AN EXTRA $1,000-$2,000 IN THEIR SPARE TIME WITHIN THE NEXT 28 DAYS.
IT'S CALLED...

The Software Side Hustle Course is a step-by-step guide that will show you how to start your very own side hustle selling software and marketing solutions to small businesses and entrepreneurs. And you can go from "I don't know how to do this"... to "working with clients and getting paid big bucks" in the next 28 days.
We created this course to teach you everything you need to know to make this happen. And we removed every single barrier from getting you started and becoming successful with this side hustle.
This course is designed help you quickly master the three phases of making this side hustle work:
Learning how to set up and manage software account(s) for a business
How to find clients who want to pay you for this kind of service
Exactly what to say to get these potential clients to say "yes" and agree to move forward with you
In order to do this, Jon and I broke this course up into 9 distinct modules that lay out the step-by-step plan you need to follow to learn how to do this as fast as possible.
It really is simple.
All you're going to do is watch the short videos in each module and follow the steps we lay out for you.
This site is not a part of the Facebook website or Facebook Inc. Additionally, this site is not endorsed by Facebook in anyway. Facebook is a trademark of Facebook Inc. ClickFunnels is a registered trademark of ClickFunnels. This product is not built by, sponsored by, endorsed by, or affiliated with Clickfunnels in any way. This site is not a part of Google, Inc or Google.com, nor is it sponsored or endorsed by Google. This site is not a part of YouTube, Inc or YouTube.com, nor is it sponsored or endorsed by YouTube.
Every effort has been made to accurately represent this product and its potential. Even though this industry is one of the few where one can write their own check in terms of earnings, there is no guarantee that you will earn any money using the techniques and ideas in these materials. Examples and materials are not to be interpreted as a promise or guarantee of earnings. Earning potential is entirely dependent on the person using our product, ideas, and techniques. We do not purport this to be a "get-rich scheme."
Any claims made of actual earnings or examples of actual results can be verified upon request. Your level of success entertaining the results claimed in the course materials depends on the time you devote to the program, ideas, and techniques mentioned, your finances, knowledge, and various skills. Since these factors differ according to the individuals, we cannot guarantee your success or income level. Nor are we responsible for any of your actions.
Any and all forward-looking statements here or on any of our sales material are intended to express our opinion of earnings potential. Many factors will be important in determining your actual results and no guarantees are made that you will achieve results similar to ours or anybody else's, in fact, no guarantees are made that you will achieve any results from our ideas and techniques are material.