The NEW Grammy Wammy Chrome Extension!
Get More Engagement, Leads and Sales on Instagram
WHAT IS The GRAMMY WAMMY CHROME EXTENSION?
Grammy Wammy is a Chrome Extension for Instagram that helps you generate more engagement, leads and sales on autopilot! The BETA Version of Grammy Wammy is scheduled to be released in April of 2021. So what exactly will be included in Grammy Wammy Version 1.0? Let's dive in...
There are several features planned for Grammy Wammy! Although we couldn't include them all in the initial beta release, we will continue adding these features to Grammy Wammy after the initial release, and beta users will even get a chance to have input on future features which will be included at no additional charge.
…that's right! You can sign up as a Grammy Wammy beta user at a super low rate, and you get access to all future updates and upgrades at no additional charge! The core features we wanted to add to Grammy Wammy include a Feed Engager, Wammy Bot, and CRM.
Since we had to choose which feature to focus on first we decided to focus on the Wammy Bot! With Grammy Wammy Version 1.0 you will be able to create autoresponders for incoming DMs to free up your time and deliver consistent service to your incoming leads.... like sending a website link, booking page or invoice! This means you can actually generate new leads and sales while you sleep.
You won't want to miss out on this time saving feature... but this is just the beginning. You can get your Wammy Bot set up in as little as 5 minutes and start automating your conversations and closing leads on autopilot. As a beta user, you will also get access to everything else we add to Grammy Wammy at no additional charge!
Here's a sneak peak at what we have planned for Grammy Wammy:
Grammy Wammy is for anyone using Instagram to grow their audience, business or brand! If you want to gain more followers, engage with influencers or others in your ideal audience and monetize your content on Instagram then Grammy Wammy is perfect for you!
I created this software for myself and my partners to leverage. Over the last two years I've built my marketing company on Facebook mainly using only organic marketing strategies and software tools, but didn't have much of a presence on other social media platforms.
…but I knew I was leaving money on the table! Facebook has a specific demographic of users, just like Instagram, TikTok, YouTube and other social media platforms do. By diversifying my efforts across different platforms, I knew I could get more done with the same content and marketing I was already producing.
So I dug into which platform I wanted to master next, and after doing some research I found out Instagram had some impressive stats from a marketing perspective. According to Hootsuite, Instagram has over one BILLION monthly active users. That's a pretty big share of the planet. There is going to be some cross over of course between social platforms, but everyone will also have their preferences for which platform they like best and spend the most time on. We all know the younger generation spends way more time on TikTok and Snapchat than they do on Facebook (do they even have Facebook?).
The more I dug into the numbers the more excited I got! Over 130 million users on Instagram tap on shopping posts per month. Of Instagram users surveyed 81% said they use the app to research products and services. So Instagram isn't just for the Kardashians, every business owner, influencer and entrepreneur should be using this app to increase their brand awareness and generate leads and sales!
If you want to start to leverage Instagram as a part of your marketing strategy without wasting tons of time or just increase your current marketing efforts make sure to get in on Grammy Wammy:
THE BEST GRAMMY WAMMY BONUS (SOFTWARE)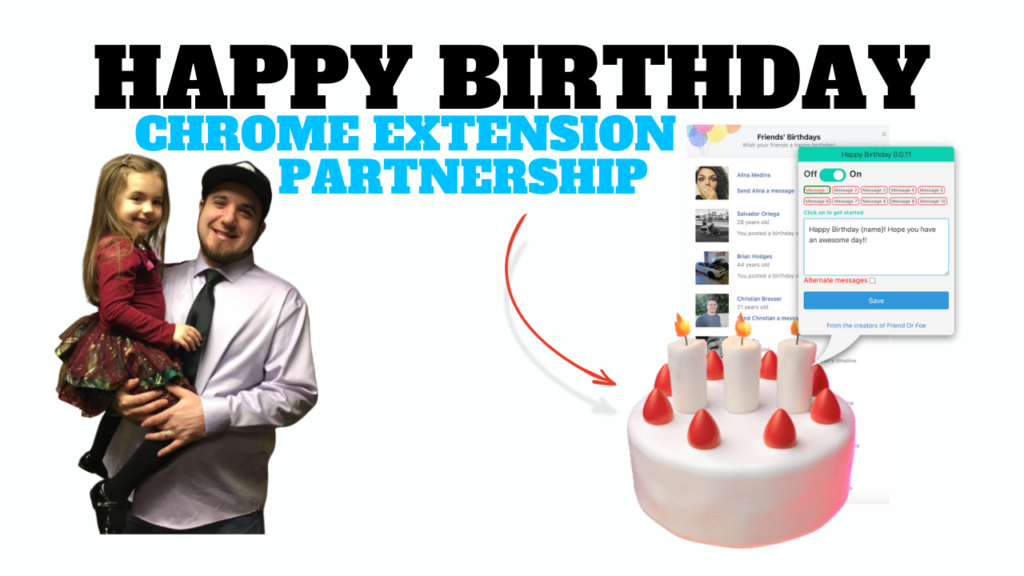 BONUS #1 - HAPPY BIRTHDAY PARTNERSHIP
If you're starting as a software partner the #1 thing you'll need is traffic to your offers. That's why I want to give you the software and support you NEED to get consistent FREE traffic to your funnels.
People will say that you need to learn to run FB ads to scale, this and that, but it's not true. I know several people making six and seven figures using only organic marketing.
Happy Birthday is a very simple Chrome Extension that you'll have lifetime access to even if you end up deciding the Tier 5 Partnership isn't for you (crazy) that automatically sends birthday messages to your friends and connections on Facebook and LinkedIn.
Not only will this simple tool increase your engagement and boost your posts to friends and connections on autopilot once it's set up, but you'll be able to give away or sell unlimited copies of this high-value simple software. It only takes five minutes to get it installed and running and it will continue to bring you more engagement from then on!
HOW TO RECEIVE YOUR GRAMMY WAMMY BONUSES
Email Derek@TriJohnson.com with a picture of your receipt (or forward it to me) and I will send you an email with all of the information you need to access your free bonuses. You'll also be in my system when you sign up, and I'll have an automation in place to send your bonuses out once I verify your sign up, but this will be the sure-fire way to get your access ASAP!
Remember, business is a long-term venture. If you're willing to put in the work… this will change your life forever! If that's you, let's go! I love helping motivated action takers... But please don't purchase this if you're thinking this is some "magic pill" or "get rich quick scheme." (Those DO NOT exist!)
However, with my support, I can give you the knowledge and software that has taken me over two years to gain and will help you fast-track your success. Obviously, I can't guarantee any results… But I can promise you that you won't be lost and struggling, as long as you follow my advice and take consistent action!
And with that being said, if you're ready to start CRUSHING IT on Instagram with the #1 software around, CLICK THE BUTTON BELOW TO GET INSTANT ACCESS! (then, send me an email to receive your bonuses)